An incredibly brave woman who endured a horrific accident age 11 has received a life changing makeover.
As a result of burns her face is completely disfigured. But the unnamed woman was left crying tears of joy after undergoing her first ever makeover.
The incredible transformation was the work of Anar Agakishiev. The makeup artist to the stars is well known for his incredible transformations.
But his fans agree, his latest endeavor may well be his greatest.
Anar, a 32-year-old artist from Baku, Azerbaijan, shared a transformation video of a brunette woman who has severe burn scars across her face.
He revealed how he totally changed her appearance with the help of cosmetics – which she admitted she had never worn.
The moving video has already racked up more than four million views on Instagram.
When posting the video, Anar captioned the transformation, 'The hardest and the most touching work of my entire 18-years practice.'
'There was an accident when she was 11, therefore, she has never had a makeup.'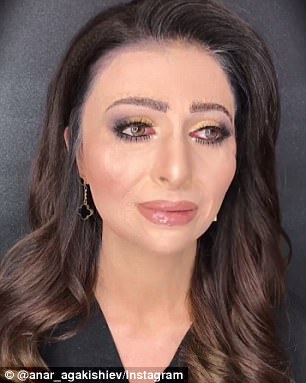 'The first time in the life I made her makeup and decided to close the mirror. Let's make each other pleasant. I am very glad that I was able to make her so happy.'
The jaw-dropping metamorphosis is so astounding you not see a trace of his client's bruised skin.
Her makeup is stunning, and features a gold smokey eye shadow and perfect brows.
Her hair went from wet and frizzy to voluminous waves, parted to the side.
Once the woman opened her eyes and saw what she looked like, she was speechless.
Clearly shaken up, she is brought to tears by her stunning transition.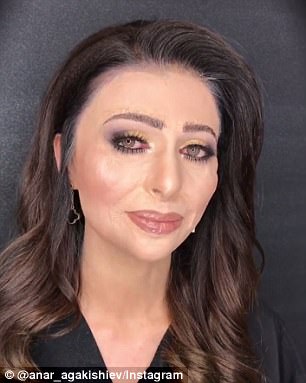 It wasn't just the model herself that was crying, people across the globe were crying too after watching the video..
One woman even wrote, 'This the most beautiful video I've ever seen! I want to hug her and tell her how gorgeous she is.'
While another comment read, 'She expressed more with her eyes than words ever could.'
https://www.instagram.com/p/Bevaa9qgf1R/?taken-by=anar_agakishiev
Anar has been a makeup artist for many years and is perhaps most well-known for his age transformation videos.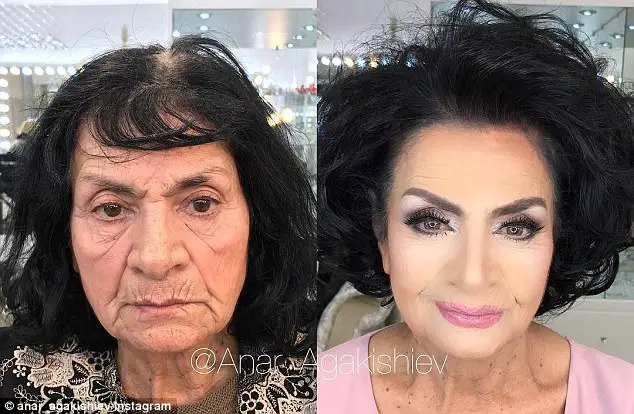 Women up to 80 years of age come to Anar to transform them into younger looking women.
Anar's talents including banishing any signs of wrinkles, lines, dark spots and circles.