You don't need me to tell you that there are some incredibly cruel people in this world.
For some, those people can be within their own family.
A brave Japanese woman survived years of domestic abuse from her own grandfather.
She has shared horrific photos of herself weighing just 37lbs.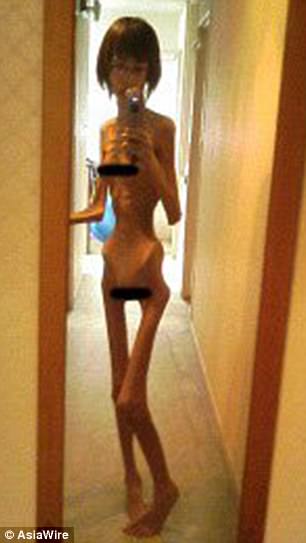 In a series of Twitter posts, she reveals how her grandfather refused to feed her and physically abused her when she was caught eating.
Selfies taken show the unnamed lady before she was hospitalized ten years ago.
Social media users were in aghast at the shockingly thin photos which shows her with protruding hipbones and rib-cage.
The woman from Kyoto, central Japan, described living in the care of her grandfather where he repeatedly starved her.
She claimed in a tweet that she was 'forbidden to eat' by her abusive grandparent.
The evil man would kick her in the belly or force her to spit the food out when she was caught eating in secret.
The physical abuse, she said, would then make her vomit.
She finally ended up weighing just 16.8 kilograms – a shocking 37 lbs – on the scale.
In her social media post, she urged those suffering from similar abuse or eating disorders not to wait, saying they should 'ask for help before it's too late'.
When she was eventually rescued, experts told her she was 'ten minutes away from death.'
When social media users accused her of faking the images, she posted a series of other photographs which were reportedly taken in hospital.
It shows bruises on her chest and neck.
Now, ten years later and in her 20s, she says she has recovered from her ordeal and is of a healthy weight.
The woman has not revealed if any actions were taken against her grandfather or where any other family members were at the time.