An average woman should consume an average of 1500-2000 calories per day.
For Dominique Montgomery it was a regular occurrence to consume over 5,000 calories a day.
The size XXXL woman survived on a diet of greasy fast food and family sized bottles of sugary fizzy drinks.
At her heaviest the 22-year-old ballooned to 298 lbs (21st 4lb).
But after a dramatic incident –  where she almost drowned – she knew something had to change.
In early 2015, the young woman became trapped in a rapidly rising tide in Los Angeles, California.
Dominique explained: 'I was swimming around at the beach with some friends, feeling great, when all of a sudden, the tide got high.'
'Everyone managed to push themselves out of the water onto some rocks, but I was stuck, because I wasn't physically able to lift myself out. Everyone tried to help, but I was too heavy.'
'I thought I was going to die and had no idea what to do. I was terrified.'
By the grace of God the water soon calmed and Dominique was able to get back to shore.
But the incident left her shaken to the core. Something had to give.
She continued: 'If I couldn't even help myself out the water, then what was I doing with my life?'
'There were strong feelings of shame and disappointment, after realising how terribly out of shape I was. I completely changed everything after that day.'
Speaking candidly, the kinesiology student (the science of movement) admitted she has struggled to maintain a healthy weight throughout her life.
Dominique went on her first diet when she was just five-years-old.
Her parents would have to get specially made school uniforms to accommodate her frame, or shop in the boys' section, where sizes were larger.
She said: 'I struggled with an eating disorder that most people don't talk about – binge eating.'
'I couldn't control how much I ate. I'd eat past feeling full, like my mind had to be satisfied before I'd stop.'
'Eventually, I stopped caring about how much I ate.'
'As I was already so big, I thought nobody would notice if I ate more.'
'I would eat at least 5,000 calories a day. Sometimes, I would eat large shakes for dessert that were about 1,000 calories by themselves,' she said.
Desperate to avoid the cruel stares of strangers, she often ate in her car, where no one could judge her.
'People stared wherever I went. I felt like a zoo animal,' she said. 'Someone once even threw a burrito at me at a football game.'
But, following her July 2015 incident, Dominique's life has completely transformed.
First the pretty brunette began by going on short walks. The walks soon turned to hikes, then progressing to jogs.
'I had to overcome my impatient mind and be driven by belief and determination,' she said.
Dominique also overhauled her diet, ditching the fast food and fizzy drinks.
Now, through diet and exercise alone, Dominique has shed almost 140lbs (10 stone), and wears a size four to six (UK 8 to 10).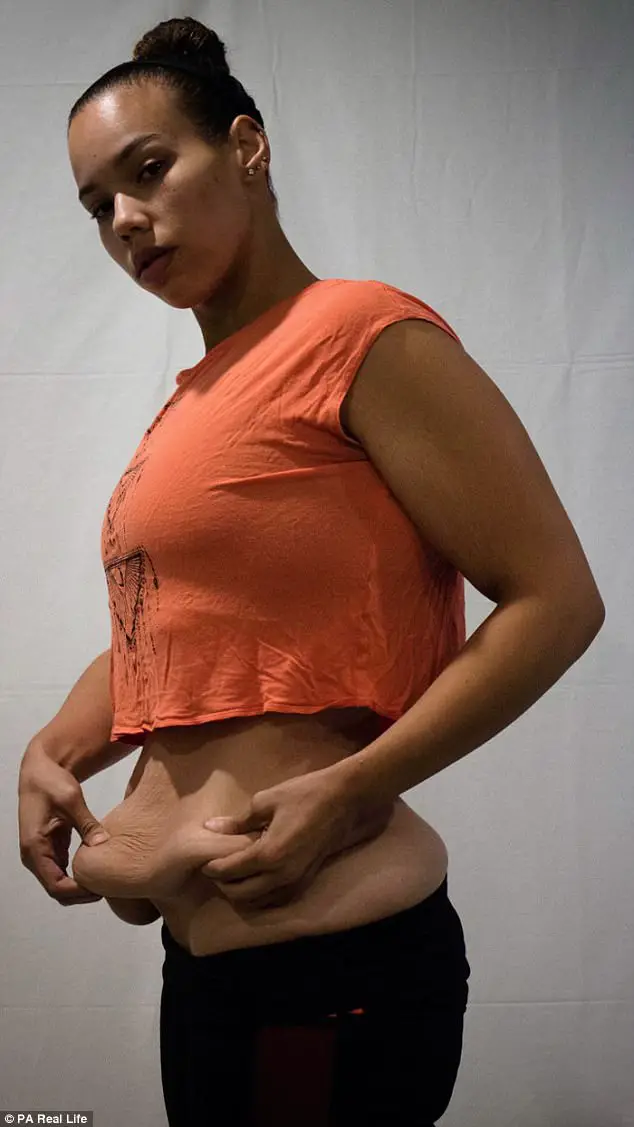 But, like a lot of people who lose scores of weight she has been left her with aprons of excess skin.
The skin hangs from her stomach, back, arms, thighs and bottom. Despite her achievement, her procedure is classed as cosmetic.
Dominique will have to pay around $15,000 (£10,548) for the operation, and has set up a crowdfunding page to help her raise the money she needs.
Offering advice, to others in her position she said: 'Don't track your progress by how long it takes, but by how far you've come physically, mentally and emotionally.
'Don't think about where everyone else is – just accept that regardless of where you start, you'll start at your own pace.
'You will have ups and downs – there have been days where I messed up, but I didn't lose sight of the overall goal. Belief, acceptance, patience and willpower – they really get you somewhere.'
To donate, visit www.gofundme.com/dominiquecmontg