The meeting room is often the most overlooked part of any workspace design. However, meeting rooms are essential for productivity and collaboration among teams within an organization. Meeting rooms need to be comfortable and functional; they need to make every meeting feel like a productive meeting.
Meeting rooms are highly sought-after discussion spaces.
They offer privacy from prying eyes and ears, whiteboards or chalkboards for brainstorming ideas, and the option to use AV equipment. The following are vital considerations when choosing meeting rooms:
1. Location & Accessibility
It's essential to ensure that meeting rooms are easily accessible by all employees throughout the day, mainly since meeting rooms can be used at different times for various purposes (e.g., brainstorming sessions or collaborative work). Meeting room doors should not be closed unless meetings are in progress so that even if only one person from a group is present, they have access to their meeting room during a session.
2. Noise Level
Noise levels tend to increase as meeting rooms fill more people, so meeting rooms should have a high noise reduction coefficient for conversations and minimal noise from surrounding areas, such as hallways or restrooms. In terms of meeting room dimensions, the ideal meeting room size is large enough that meeting attendees feel like they are part of the meeting but not too large that everyone feels as though they're speaking from far apart.
3. Lighting & Windows
Meeting rooms don't have significant natural lighting sources, so it's essential to ensure that meeting spaces can be well lit by artificial means. Meeting room windows might be necessary depending on the types of meetings being held – consider an interior location if confidential information is being discussed. When meeting rooms are located on the exterior of a building, it's important that meeting room windows can be covered for security purposes if meeting space is not in use.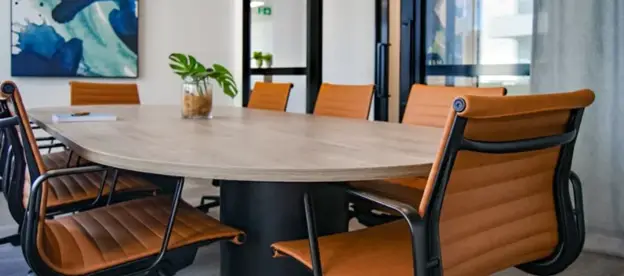 4. Wireless and Wired Networks
Ensuring meeting spaces have enough ports and bandwidth so presenters or attendees can connect their wireless devices to projectors or online meeting software seamlessly without interruption is important for meeting room success. Employees become distracted and unproductive when presentations stall due to insufficient connectivity. It's also helpful to consider using wired ethernet connections where possible instead of wireless connections to ensure reliable network capabilities.
5. Technology
When meeting rooms don't receive significant natural light, installing artificial that provides high-quality lighting fixtures is often necessary. Consider meeting room table sizes; larger meeting tables might be appropriate for brainstorming sessions. Still, smaller meeting tables might be better suited for project meetings with a collaborative nature. Depending on the type of meeting being held, it can even work to have meeting tables that fit into different meeting rooms.
6. Furniture
Meeting spaces can be equipped with various furniture options in terms of seating arrangements and meeting room designs. Since many meetings require presenters, consider using podiums or gooseneck microphone systems in meeting rooms instead of uncomfortable chairs or stools at meeting tables. Since laptops are often used during meetings, I would also recommend including conference-style seating near outlets to which employees can connect their devices without getting up.
7. Walls & Mirrors
When meeting spaces are located on the exterior of an office building, meeting walls should provide at least limited noise reduction to ensure meeting attendees inside the meeting room can concentrate without interruption. Since employees might be using meeting rooms for personal use when meetings aren't occurring, Experts recommend transparent meeting room walls. Hence, presenters and conference attendees know whether or not they're welcome in the meeting space or if they should leave their meeting space for other uses. It's also helpful to include mirrors in meeting rooms to connect with people in larger meeting tables if necessary visually.
8. Lighting Controls
Considering how small office buildings tend to be, every square foot of space must be used appropriately; this includes meeting room lighting controls. Experts recommend that meeting room lighting controls near meeting room entrances ensure that meeting attendees can easily adjust meeting space lighting as needed.
9. Entryway & Coat Storage
It's important to consider providing some coat storage in meeting rooms since employees might bring their coats inside meeting spaces depending on the weather or their personal preference for comfort while attending meetings. Meeting attendees should also have enough space inside meeting rooms to store their bags, coats, and any other materials they'd like to keep with them during meetings for convenience purposes.
10. Salvaged Materials & Local Art
Meeting room walls are often fairly standard throughout the design and furnishing process. Still, meeting room walls should be a place to include some creativity since meeting attendees will often see meeting rooms materials daily. Including salvaged materials from local businesses or incorporating local art into meeting spaces can help meeting room designers create a unique yet appealing meeting space that reflects your company's culture (and your community).
Conclusion
Whether meeting with a client for lunch or hosting an all-day workshop, meeting spaces are vital to the success of any business. ARCC Spaces is committed to meeting our needs and providing a world-class meeting space experience that will exceed our expectations. Their team at ARCC Spaces MY provides event planning services such as audiovisual support, catering options, onsite staff, and more so you can focus on what matters most: creating results!
Their meeting rooms are perfect for small to medium-sized businesses who need a place to hold meetings and training sessions. They have several meeting room sizes to choose from, so you can find one that fits your needs perfectly. Plus, their meeting rooms come fully furnished with all of the amenities you need to host a successful meeting. Schedule a tour today and see why ARCC Space is the perfect place for vital business meetings!