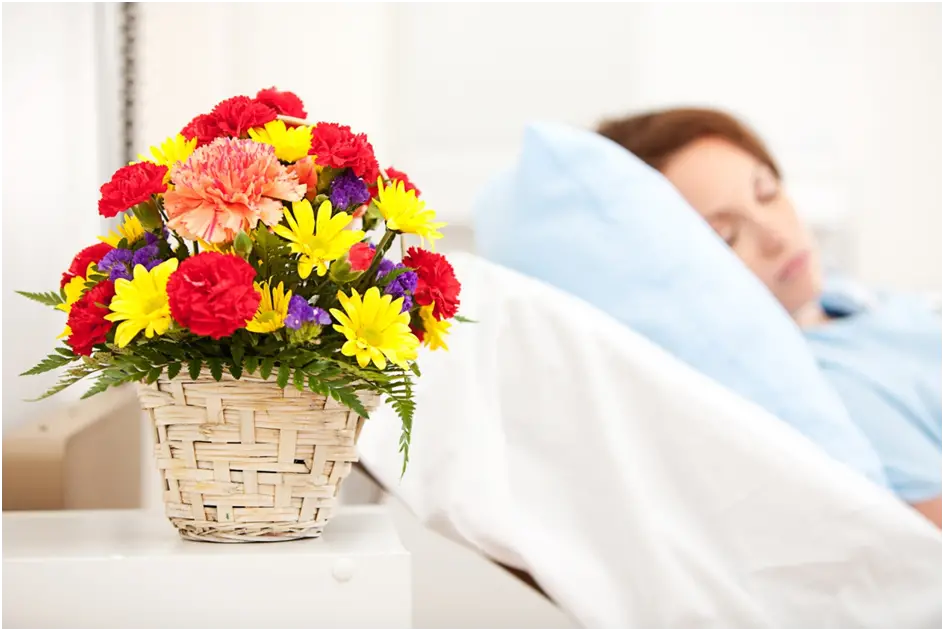 Sending get-well flowers is about more than adding color to someone's room. Flowers have ongoing health benefits. It is from lower incidences of anxiety to reduced pain response.
That means sending someone flowers when you know they are ill is more about sending good vibes with your gift. If you know someone is not feeling their best and have yet to pop in, sending flowers and a card could be the perfect way to take the edge off and make them smile.
Read on for our guide to sending get well flowers.
Selecting the Right Flowers
When selecting the right flowers to send as get well wishes, it's essential to choose blooms that are cheerful, uplifting, and bring a sense of joy to the recipient.
Flowers for every occasion provide a wide variety of flowers to choose from, with something special for everyone. Bright, cheerful bouquets can lighten a room and bring hope to a tough situation.
To make sending a get well bouquet easier, we provide a selection of get well wishes to share with your blooms.
Bright and Colorful Blooms
Opt for flowers in vibrant hues that will bring a pop of color and positivity. Consider different types of flowers like daisies, sunflowers, tulips, lilies, or gerbera daisies, as they are known for their cheerful and lively appearance.
Fragrance Considerations
While some people find floral scents pleasant, others may have allergies or sensitivities. It's best to avoid fragrant flowers, especially if you're unsure about the recipient's preferences or any potential sensitivities.
Long-Lasting Varieties
Choose flowers with a longer vase life, allowing the recipient to enjoy them for an extended period. Some long-lasting options include carnations, alstroemerias, orchids, or chrysanthemums.
Flower Arrangements
You can choose between sending a pre-arranged bouquet or creating a custom arrangement. Pre-arranged flower bouquets are convenient and often designed with specific occasions in mind.
Custom configurations allow you to personalize the selection and design according to the recipient's preferences.
Potted Plants
Instead of cut flowers, you can consider sending a potted plant. Plants can have a longer lifespan and remind you of your good wishes. Consider low-maintenance plants like succulents, peace lilies, or snake plants.
Choosing a Florist
When choosing a florist to send get-well flowers to a loved one, the quality of the florist's products and services should be a top priority. A consumer should research firms to find one committed to exemplary customer service.
Knowing what schools a florist has attended and what credentials they have earned is a great way to determine their skill level. Additionally, the longevity of the florist business in the local area is essential to consider.
A well-established florist is likely to know the complexities of the local flower industry and be better able to get the flowers to the recipient without delay. Lastly, looking for reviews online and asking friends and family for their opinions can help ensure the customer's confidence in the flower shop.
Following these steps will ensure that choosing a florist for get-well flower delivery is much smoother.
Personalize Your Message
When sending flowers, make sure to personalize the message. A thoughtful note and get well gestures can help bring a smile to someone's face. Include the patient's name in the letter to make the gift more special.
Tell the recipient you were thinking of them and wish them a speedy recovery. To make it extra memorable, you can also write a remarkable memory of the individual or something you appreciate about them.
If the sentiment you decide to write is witty, the recipient will be all the more lifted. If you don't have a special message, you can always include a quote or saying that offers hope for a speedy recovery. Ultimately, the power of personalization will help you get flowers well and put a smile on someone's face during a tough time.
Consider Extra Gifts
When getting well flowers, consider more gifts for those recovering from an illness or injury. These include stuffed animals, gift cards, books, a care package filled with magazines, healthy snacks, and cozy slippers.
These gifts can make the sick person feel special and cared for. Additionally, consider sending a gift basket with items like tea, chocolates, candles, and herbs for a natural remedy or the patient's favorite things.
If you believe a get-well-soon card would be beneficial, select one with thoughtful words and a sincere message of hope and recovery. Consider sending fruits or baskets of goodies to provide nourishment and boost recovery. Get well gifts go a long way in helping a loved one heal and keeping them feeling loved during their recovery.
Delivery Options
Delivery options for get-well flowers vary depending on the recipient's needs. For more urgent needs, there is often the ability to order online and deliver them the same day or the next day.
Most florists provide both delivery and pickup options for orders placed in advance. For charges that must be paid by a specific date and time, contact the local florist for these services and ensure they are reliable and cost-effective.
Certain stores also provide flower delivery services that can be requested online. These stores may be more expensive than florists, but they provide convenience.
Research recently posted reviews to ensure quality and promptness when selecting an online store. While online ordering is convenient, it is often more expensive and may include an extra delivery fee.
Timing and Frequency
When it comes to sending get-well flowers, timing, and frequency are essential. Being thoughtful and sending flowers can help boost morale during a difficult time.
If the recipient is in the hospital, it's best to visit or send a bouquet in the morning or mid-afternoon, as there may not be enough room on the patient's bedside table for more flowers in the evening. Potential visitors can send flowers and gifts to show their support and care if the recipient is at home.
Consider Sending Get Well Flowers to Your Loved Ones Now
Getting well flowers is a thoughtful way of wishing someone ill a speedy recovery. They make a perfect "get well soon" gesture to be sent to their door.
Order a get well flowers from a florist for the perfect surprise. The possibilities are endless. Send well wishes today!
Check out some of the other articles on our site!