In warmer months, it is essential for everyone to stay cool, but a central air conditioner might not always be practical. Perhaps you do not spend sufficient time at home to justify it, or perhaps you reside in a rented property. In addition, the installation of air conditioners can be quite costly.
In a temperate climate, a fan can provide economical cooling solutions. The market is as saturated as ever. Take a look through this guide to order the most suitable fan for your needs.
This guide covers the key points to consider when you're picking a cooling fan, such as the type of fan you require, the features that mean the most to you, and whether it is worthwhile to spend some extra money on one.
WHAT DO YOU CONSIDER WHEN BUYING A FAN?
SPEED AND SIZE
The more control you have, the more likely you are to feel comfortable, and not be disturbed, annoyed, or irritated by an overly-powerful blast, or feeling as if your fan doesn't do anything to cool you.
A small fan is suitable for a small room, whereas a large fan is suitable for a large room.
When the fan rotates from side to side, air can be used to control the fan air direction and to spread cool air across a wider area. This should also be a feature to look out for, although it is unusual for a fan to fail to offer this option.
REMOTE CONTROL
This allows you to adjust the settings of the fan without getting out of your sofa or bed; this feature is absolutely crucial for pedestal or tower fans that are intended to cool a whole room.
Some electric fans have integrated remote controls that can be stored neatly on the fan itself. It's not a must-have, but it's a nice extra if you're prone to losing stuff.
TIMER
A fan timer allows you to automatically switch off or on your electric fan after a set period of time, saving energy and allowing the fan to shut off when you're sleeping.
WHAT ARE THE TYPES OF FANS?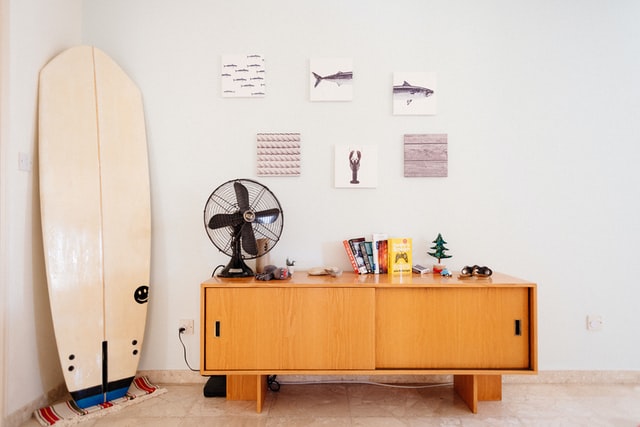 TOWER FANS
Tower fans are very popular due to their ability to fit into rooms that are lacking in space. Despite their narrow design, tower fans offer strong airflow and are often preferred for the quiet operation they provide. Tower fans are more advanced than pedestal fans, and they usually include many more features, such as timers and air purification capabilities.
PEDESTAL FANS
A pedestal fan has large blades situated inside a housing that sits atop a support stand. The majority of pedestal fans can be adjusted in height, making them suitable for multiple kinds of applications. Since pedestal fans typically have large blades, they can distribute air throughout larger rooms, and they are ideal for bedrooms as they can provide cool relief at bed height.
DESK FANS
When the deadline is fast approaching and you are under pressure, it is vital that you do not become distracted by the heat.
A desk fan is the ideal personal cooling device for the office or home use. Feel the refreshing airflow as soon as you plug it in and place it on a smooth surface.
BOX/FLOOR FANS
Floor or box fans are bigger than desk fans but smaller than pedestal fans. They are used to cool smaller rooms, and they sit on the ground. A floor fan is typically shaped like a pedestal fan without the stand.
A box fan, however, is usually square in shape and has a grill. If you want a more even temperature in your home, consider an oscillating floor fan instead of a fan with a high-speed motor.
CEILING FANS
Ceiling fans provide a resource-friendly alternative to split system air conditioning units due to their ability to cool an entire room. You will not have to worry about obstruction while the unit is suspended from the ceiling, and you won't need to store the unit during the colder months.
Ceiling fans are also brilliant for the decor enthusiast, as they can contrast and complement a variety of furniture items as well as the walls of a room.
EVAPORATIVE COOLERS
Even though it is not a fan, an evaporative cooling system can perform admirably in dry, arid environments.
A fan in the unit draws hot air from the surrounding area and directs it to a series of damp pads. The evaporation process results in cool, refreshing air being blown out of the other side.
In conclusion, we all agree that fresh air is a basic need both in the office and at home, particularly during the summer season! Ceiling fans, pedestals, and columns ensure adequate ventilation and fresh air. Nonetheless, we must be careful to select the right one for our spaces so that we will not experience regret or annoyance when the purchase does not meet our expectations.