Generally, when you are asked to name a famous painter, you come up with the name of a male artist. However, in the Western world's art history, the terms of great men like Leonardo da Vinci, Vincent Van Gogh, Pablo Picasso, and many more are well-known.
But there have been many famous female painters who have helped to shape our visual history. Historically women were discouraged from following a career in the fine arts. But many female painters persevered. 
If you are an art collector and have few paintings by women painters in your collection, we hope that the artists we discuss in this article entice you to get good reproductions of their paintings.
Sofonisba Anguissola (1532 – 1625)
Painter Sofonisba Anguissola was a women trendsetter during the Italian Renaissance. She came from a relatively poor noble family, but her father ensured a well-rounded education. This education incorporated fine art.
She had apprenticeships with several local painters, and this set a precedent for future female artists. Her talent was known to the greatest Michelangelo because of which she was able to receive an informal mentorship from him. Unfortunately, as a female, she was not allowed to study anatomy or practice drawing models, but despite that, she managed to have a successful career. 
She was also a painter in the court of King Philip II of Spain. Over 14 years, she developed her skills for official court portraiture and more intimate portraits of nobility. Her paintings capture the spirit and vibrance of her sitters. Her "Portrait of her Sisters Playing Chess" was painted in 1555 and is one of her well-known paintings. 
Artemisia Gentileschi (1593–1653)
She was the daughter of an accomplished painter and thus had access to the art world at a young age. Early on, she worked in her father's workshop by mixing paints. But her father noted that she was exceptionally gifted and supported her career as a painter.
She was a painter of the Italian Baroque period and painted large-scale Biblical and mythological paintings, just like her male counterparts. She was the first woman accepted to the prestigious Fine Art Academy in Florence. Her Self Portrait is one of her well-known works which is available at 1st Art Gallery along with other well-known, famous paintings.
Rosa Bonheur (1822–1899)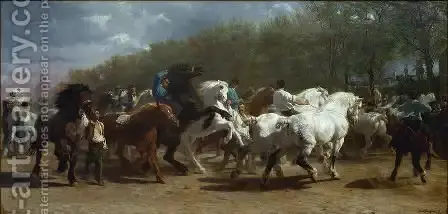 Rosa Bonheur's father was also a painter. This French Realist painter is considered one of the most famous female artists of the 19th century. Bonheur is known for her large-format paintings of animals. She spent a tremendous amount of time sketching live animals in motion. She exhibited regularly in Paris, the United States, and Britain.
She broke gender stereotypes. She wore men's clothes and was also an open lesbian; Bonheur staked her claim as a groundbreaking woman both in her career and personal life. "The Horse Fair" is one of her famous paintings.
Mary Cassatt (1844–1926)
Although Mary Cassatt was an American, she spent her adult life in France. She became an integral part of the Impressionist group. Her family first protested against her idea to be an artist. She left her art school as she was frustrated by the female students' treatment—they couldn't use live models.
When she arrived in Paris, she spent her free time copying Old Master paintings in the Louvre. She created her career path with the Impressionists. Cassatt mastered pastels to create soft, light work.  One of her famous paintings is "Breakfast In Bed."
Lyubov Popova (1889-1924)
Popova was a Russian avant-garde artist. She was ahead of her time and was one of the first female leaders in the Cubo-Futurism movement. This movement combined French Cubism with Italian Futurism. Then she explored the Suprematist movement. This movement's basis was using geometric forms, such as squares, rectangles, and circles. 
Besides her paintings, she is also known for her excellent fabric prints, book covers, and posters. One of her famous works is "Cubist Cityscape," which was painted in 1914.
Berthe Morisot (1841 – 1895)
This French artist was one of the prominent painters in the impressionist movement. She concentrated on topics related to the life of women within her work. Family life and domestic scenes dominated her creations, and she had a particularly delicate brush technique. "A Woman at her Toilette" is one of her famous paintings.  
Eva Gonzales (1849 – 1883)
Eva Gonzales was a student of Edouard Manet. Despite this, she never was in his shadow – she depicted her unique vision and talent. She was a direct response to Manet's work. Manet painted a portrait of Gonzales, and Gonzales responded with a series of self-portraits. Her "Morning Awakening," painted in 1876, is one of her famous works.
Conclusion
Paintings by women have been produced for centuries, and they have played a significant role in all the art movements since the Italian Renaissance. Many of these paintings by women have become famous and are available at the 1st art gallery. It is the world's largest supplier of Made-to-Order Oil Paintings and has excellent summaries and photos of works depicting women available, it is a perfect place to start.