Thanksgiving is celebrated on the fourth Thursday in November every year in the United States. The tradition started in 1621 when the first settlers in the US who landed by Cape Cod, Massachusetts, shared an autumn harvest feast with the Wampanoag Native Americans who welcomed them and taught them how to grow food.
The meal was to celebrate the Pilgrims' first successful corn harvest that was due to the Native Americans who taught them how to cultivate it. They also taught the new Americans how to catch and eat fish and extract sap from trees for sugar. Although it was celebrated unofficially every year, President Abraham Lincoln did not make it official until 1863.
The first Thanksgiving did not feature pies, cakes, and other sweets but instead consisted of turkey, seafood, corn dishes, and many fruits and vegetables. Some historians believe they also served a variety of other fowl and even venison. There were pumpkin dishes too such as mashed, roasted, and raw chopped squash.
5 Fast and Easy Pumpkin Dishes for Your Holiday Dinner
Today, Americans still celebrate Thanksgiving on the fourth Thursday of November, but the menu has grown exponentially. About 90% of US households serve turkey but others celebrate with a ham or some other type of meat. Then there are the traditional mashed potatoes with gravy, stuffing, cranberry sauce, and the famous green bean casserole. Here are some of my favorites:
Pumpkin Pot Roast
This unique main entrée is not only delicious but may become your family's new traditional Thanksgiving feast. Pumpkin pot roast is made with tender beef, pumpkin, and a hint of pineapple, the blend of these flavors is savory and scrumptious. We also toss in some diced poblano peppers, Worcestershire sauce, and beef stock.
And this dish is super easy. Just put it all in a dutch oven and cook it on low for about three or four hours. Alternatively, you could also bake it in the oven at 325 degrees F or in your slow cooker for four to six hours. It just depends on how much time you have and what else you have to cook.
Instant Pot Risotto
For something completely different, try this instant pot risotto made with buttery pumpkin, fall spices, and arborio rice. Topped with parmesan cheese and with a bit of tangy wine, this is a decadent dish to serve on your Thanksgiving table that will be sure to be a hit. You can use it for a main entrée or side dish.
The traditional turkey and green bean casserole are great, but this dish can satisfy everyone's cravings for the big orange squash, even vegetarians, just use vegetarian broth instead of chicken. Or make it vegan by omitting the cheese. Cook it in your pressure cooker for about 15 minutes and you will have a new holiday tradition.
Instant Pot Pumpkin Soup
Soup is one of those hearty comfort dishes you can serve all year long but tastes especially fulfilling during the colder months. Add a large bowl of instant pot soup to the table and watch your family fill up their bowls several times. It is that good! Not to mention, fast and easy. This appetizer may end up being the main dish.
Some of the flavors you will find in this savory soup include red curry, ginger, cloves, and the traditional pumpkin pie spices. And you can easily make this vegan by substituting chicken broth with vegetable and using almond or coconut milk instead of cream.  
Roasted Pumpkin
If you have never roasted a pumpkin before, you will love how easy this is and how it makes your house smell. And you can make so many things with roasted pumpkin from appetizers to soup. And all you need for this recipe is a sharp knife and a pumpkin. You can use any kind of pumpkin you like but the sugar pumpkin is best.
After scooping out the seeds (to roast or air fry), cut the pumpkin into slices and put them on a baking sheet. Drizzle a bit of oil and salt on top and then pop it in the oven for 40 to 50 minutes, depending on the temperature you choose and how big your pumpkin is. Once it is done, you can serve it as a main entrée with the traditional side dishes.  
Pumpkin Cornbread
Cornbread is a staple in many Thanksgiving meals around the country. Even if you do not traditionally serve it, try our pumpkin cornbread variety this year and it is sure to become a new tradition. The autumn flavors in this fluffy and moist bread make it a popular side dish or even dessert with a bit of whipped cream or honey.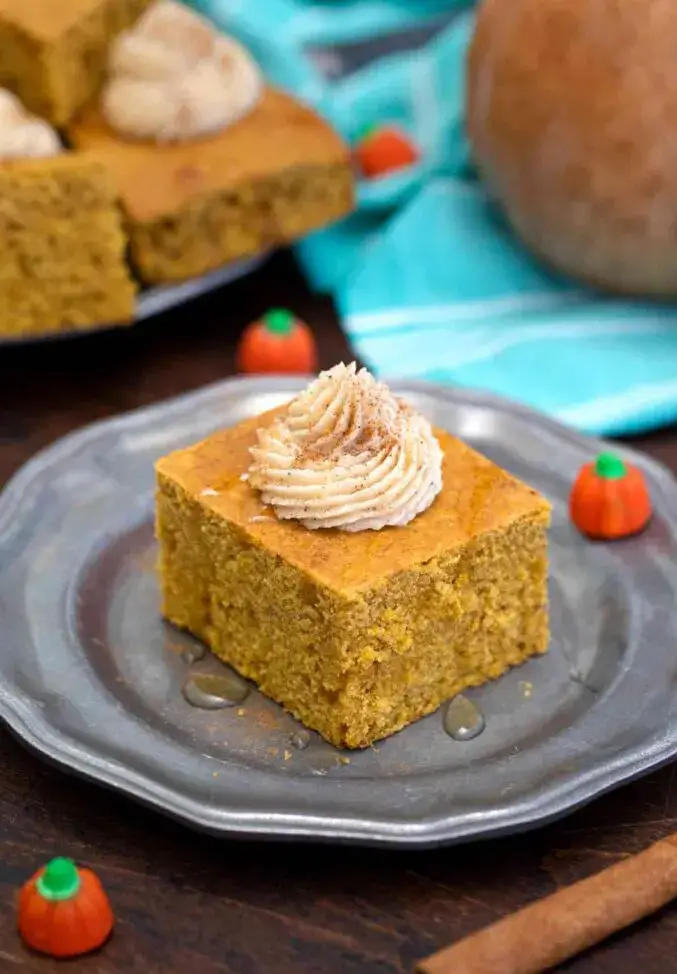 And this is so easy to make, you will love adding it to your fall menu. With our recipe, you are really just adding pumpkin puree to cornbread, which not only adds flavor but also gives it a rich and moist texture that you can use for many different dishes. Or you can just serve it as a bread alongside all the other dishes.