It's often said that what is portrayed on social media isn't necessarily reality.
When looking at Nathaly Ramos' pictures on Facebook you would see a devoted mom.
But behind her smile, was a deep depression. It led her to kill her baby son and attempt to kill her boyfriend.
After the South Floridian mom stabbed her two-year-old son to death, she turned the weapon on herself, police say.
The 22-year-old was arrested on Sunday afternoon and charged with second-degree murder after killing her son Alphonse.
Ramos was also charged with attempted murder after stabbing her boyfriend numerous times.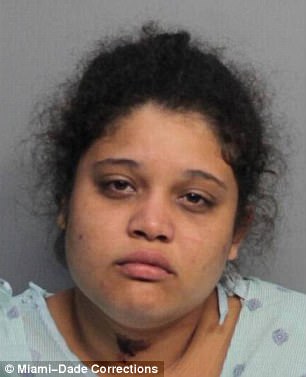 Ramos tried to take her own life by slicing open her neck.
She was taken to Homestead Hospital in critical condition, but has since been released and is being held in jail without bond.
Her mugshot shows a wound on her neck.
Miami-Dade Police added that Ramos had a knife in her hand at the hospital which has since been confiscated as evidence.
The unidentified male victim was airlifted to Jackson South Community Hospital in an unknown condition.
According to police reports cited by CBS12, he was Ramos' boyfriend.
He told police he woke up in his home to severe pain in his body on Sunday morning.
He then realized his girlfriend had stabbed him.
She then allegedly chased the man around the house armed with a knife and a taser.
She then ran out of the apartment when he locked himself in a bathroom.
Ramos admitted to stabbing her boyfriend and then going to her mother's house, where she stabbed her son in the throat.
She then tried to kill herself, police told WPLG.
Neighbors told local news outlets the child lived in the government housing complex with his grandmother because Ramos was unstable and lived in a shelter.
'The daughter, who is the mother of the baby, she's very depressed,' a neighbor who did not want to be identified told 7News.
'She's not right in her mind, so Grandma wouldn't let her come see the baby like that.'
Ramos often shared posts about aliens and depression on her Facebook/
She shared images that read 'you must betray the humans' and 'suicide is badass'.
She wrote on November 29: 'Can you save. Can you save my heavy dirty soul, For me?'
Her Facebook page once saw Ramos in a happier place, doting over baby Alphonse.
'I love the time of the day when my son throws himself on me and gets all comfy'd up next to me.'
'It's beautiful how much comfort and love emanates from your children,' she wrote on August 2016.
It also showed Ramos, her boyfriend and her son on family outings, such a a cruise holiday.