Winter can be a chilly and challenging time for our small furry friends. To keep them warm and stylish, we've compiled a list of 10 cute and functional winter hat accessories for small breeds. From panda costumes to pilot hats with ear flaps, there's something for every fashion-forward pup.
These hats not only provide warmth but also add a touch of charm to your pet's winter wardrobe. Let's dive in and discover the perfect winter hat accessory for your beloved small breed.
1) Zoo Snoods Panda Costume
The Zoo Snoods Panda Costume combines fashion and comfort. This cute hat is crafted with cozy yarn, adorned with endearing panda ears, and ensures a comfortable fit to keep your pet toasty throughout the cold winter days. Put it on your small breed to make them the center of attention at every gathering.
2) Dog Winter Pilot Hat with Ear Flaps
With the Dog Winter Pilot Hat, your pup can look as dashing and daring as an aviator. It keeps your furry friend extra warm with its soft materials and cozy ear flaps and gives them an irresistible and adventurous style. Guaranteeing comfort on even the coldest of walks, it's an absolute must-have for any pup looking to add a bit of daring flair to their wardrobe.
3) Sparkpaws Dog Knitted Hat
Bring timeless winter fashion to your pup with the Sparkpaws Dog Knitted Hat. This hat will bring a touch of sophistication to your furry friend's wardrobe as it is crafted with a stylish plaid pattern and warm knit design. Featuring knitted hangings for a snug and cozy fit, this hat is ideal for smaller breeds.
4) Kuoser Dog Winter Hat
This Kuoser Dog Winter Hat is practical and stylish. Crafted from high-grade acrylic yarn, this hat is exceptionally cozy and insulates the wearer. Not to mention the pom-pom and ear slits that add to its practicality while giving it a delightful look, this hat comes in various shades and sizes, making it suitable for any small breed pup.
5) Winter Snow Hat, Pullover Hoodie Hat
Ensure your small-breed companion enjoys the cold winter season with the Winter Snow Hat Pullover Hoodie Hat. This hat guarantees your pooch will remain toasty-warm on their wintry strolls or playing in the snow, providing complete protection from the chill with its integral hoodie. Not only will your pup be kept snug, but they'll look extra stylish too!
 6) Chihuahua Hat
This stylish Chihuahua Hat is perfect for tiny pups, and its bright colors and cheerful patterns bring a hint of fun to any winter ensemble. Guaranteed to fit snugly, the ear holes provide an extra layer of comfort while ensuring a great look – your pup will look fabulous in this adorable accessory.
7) Fleece Cold Weather Dog Hat With Ears
The Fleece Cold Weather Dog Hat With Ears is rescued when the temperature drops. This hat covers your pet's head and ears, providing extra insulation as it is made from soft and warm fleece material. The adjustable chin strap ensures a secure fit, and the cute floppy ears add an irresistible charm.
8) Saintrygo Celebrity Dog Winter Hat
Let your small breed embrace its inner celebrity with the Saintrygo Celebrity Dog Winter Hat. This hat features a trendy design inspired by famous icons, making your pet feel like a star. Its soft and stretchable material ensures a comfortable fit, keeping your furry friend warm and fashionable throughout winter.
9) Kuoser Dog Hat & Scarf Set
The Kuoser Dog Hat & Scarf Set is an excellent choice for a complete winter accessory package. This set includes a cozy hat and matching scarf to keep your small breed stylishly warm. The adjustable chin strap and scarf tie ensure a secure fit, while the adorable patterns add charm.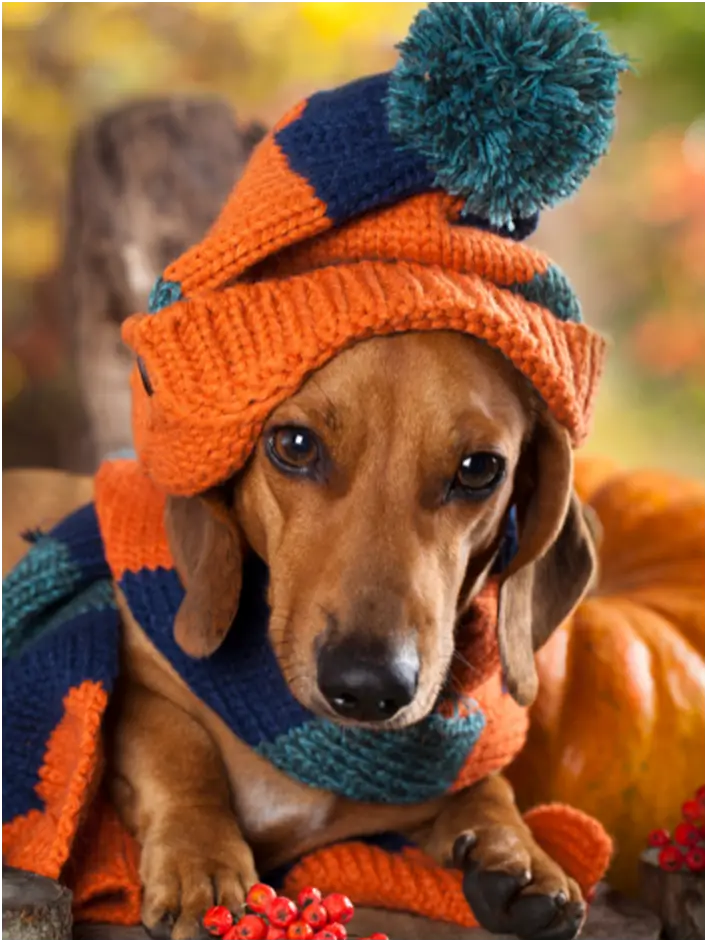 10) NorthEarth Winter Soft Dog Hat
The NorthEarth Winter Soft Dog Hat offers a combination of warmth and elegance. This hat is made from soft plush material and provides exceptional comfort for your furry friend. Its ear slits and adjustable chin strap allow for a perfect fit, and the subtle design adds a touch of sophistication to your pet's winter look.
Wrapping Up
Get your pet prepared for cold weather with these 10 stylish and practical winter hats. From panda suits to aviator caps, there is an accessory to suit each pup's unique look. Not only do these headgear pieces offer protection and insulation from the cold, but they also impart fashionable air to your dog's winter outfit. Get your furry companion geared up and let them show off their stuff with these darling winter hat accessories! Keep warm and stay stylish!