This horrifying incident should be making worldwide headline news.
But in reality it's hardly getting any coverage at all.
110 girls have been missing for nearly a week after an attack on their school in the town of Dapchi, Nigeria.
Terrorists said to be from the Islamist militant group Boko Haram invaded the school, with 906 students, in the northeastern state of Yobe on Monday.
The fate of the girls is not yet known, though it is feared they have been abducted as brides for the Boko Haram extremists.
The terror group shocked the world in 2014 when they kidnapped 276 girls from a boarding school in Chibok.
The young female students were then forced to marry their captors.
The militants arrived on Monday evening, sending many fleeing into the surrounding bush amid the hail of gunfire.
Nigerian president Muhammadu Buhari has called the disappearances a 'national disaster.'
One devastated parent, Bashir Manzo, earlier said parents compiled a list of 101 missing children and presented it to the governor.
Mr Manzo, whose daughter Fatima is still unaccounted for, said: 'This list did not come from the school management or any government source but collated by us from the parents of the girls,' he said.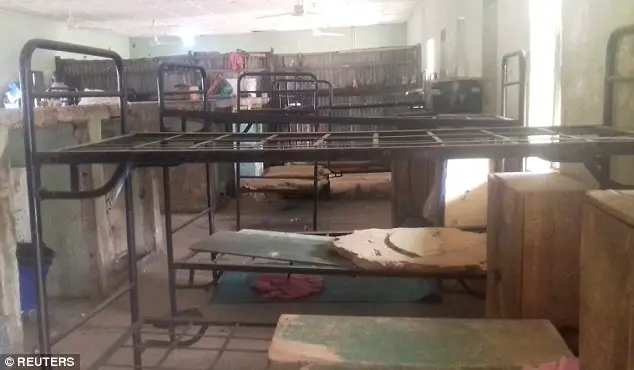 Local officials at first falsely indicated that some had been rescued.
But the state governor, Ibrahim Gaidam said 'the girls have not been found and we should continue to pray for their safe return,' another parent, Rabiu Sani, confirmed.
While some of the Chibok girls escaped and many others released as part of negotiations, about 100 still remain with their captors.
The extremist group has kidnapped thousands of people over the years.