She's a 15-year-old schoolgirl who just beat her idol Venus Williams at Wimbledon.
Cori 'Coco' Gauff, 15, says she is "literally living her dream right now" after beating the seven-time Grand Slam singles winner, 39, on No. 1 court yesterday. 
Gauff beat the tennis legend, who had won four of her Grand Slam titles before she was even born, winning 6-4 6-4.
Her win came less than a week after she finished her exams.
After her historic win, an emotional Gauff revealed her friends and family are incredibly proud of her – including her coach and father Corey.
She said: "I know [my parents] are super happy, my dad was just jumping up every time I won a point. I'm just so happy and blessed that they really just spent all their time on me and my brothers and making sure that we're successful."
Gauff was not even born when Venus Williams claimed her first Wimbledon title in 2000.
What makes her fairytale win even more amazing is that she had a world ranking of 301 at the start of this year's championships.
She was given a wild card entry for her first Grand Slam tournament, according to the Evening Standard.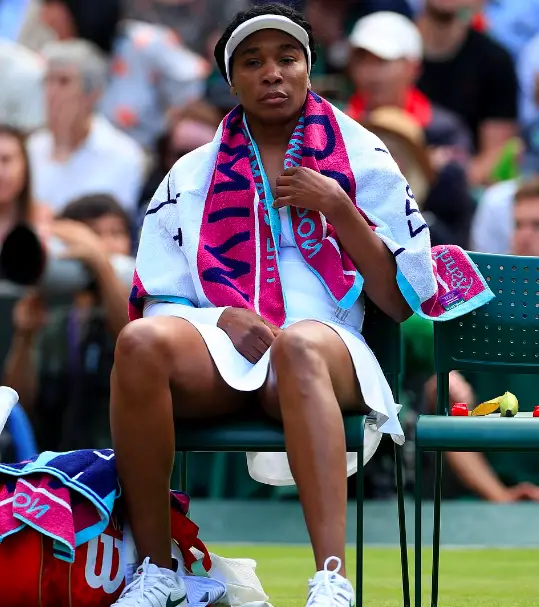 After her win, Gauff revealed Williams gave her a pep talk.
"Venus told me congratulations and keep going, she said good luck and I told her thanks for everything she did."
"I wouldn't be here if it wasn't for her – I told her she was so inspiring and I've always wanted to tell her that but I've never had the guts to before," the new Wimbledon winner said. 
After winning, Gauff was pictured on court bursting into tears. She admitted it was the first time  she had cried since Ironman died in Avengers End Game.  
"Honestly I don't really know how to feel. This was definitely the first time I ever cried after winning a match. I don't even know how to explain how I feel."
"I had to tell myself to stay calm, I'd never played on a court so big. I had to remind myself that the lines are the same size."
Made for the big stage ✨@CocoGauff becomes the youngest player since 1991 to win in the first round of the ladies' singles, beating Venus Williams 6-4, 6-4#Wimbledon pic.twitter.com/hfgcQGdZtq

— Wimbledon (@Wimbledon) July 1, 2019
Gauff has modelled her life on the Williams sisters rise to world tennis champions. 
When she was eight, Gauff's father managed to get front-row tickets to the U.S. Open. It was there she met her Venus for the first time and she even got her autograph. 
"My first U.S. Open I went to when I was eight we saw a Venus match, my dad somehow got us front-row tickets. I got her autograph, I was so happy."
"After the match she gave the ball kids one of the balls and he gave it to me — I don't know if she told him to."
Gauff was the youngest U.S. Open junior finalist at 13, and according to Forbes is set to earn $1million (£800,000) from endorsements in 2019.