What celebrity would you go absolutely crazy for if you happened to bump into them?
But can you imagine being super famous, taking pictures all day with people you don't know?
It's got to get tiresome. These 33 ridiculously awkward fan photos definitely prove that.
Prepare to cringe…
#.1 Kanye's Not Feeling It
Kanye West was not impressed when these Seashawks fans rolled up for a selfie.
But in fairness, Kanye's not usually impressed… unless it's with himself.
#2. Khloe's Biggest Fan
If you're going to take a photo with your favorite celebrity, maybe ask them first.
This photo is not cute and Khloe was rightly not impressed!
#3. Downey's Dumbstruck
Robert Downey Jr. was pictured here after the Iron Man premiere.
This awkward selfie shows that he was probably ready to go to bed!
#4. The Game's Gang Signs
Wow, everyone in this photo looks like they would rather be anyway but there…
#5. Will's Naked Selfie
Suave Will Smith took this fan photo with two nudists in his stride.
Although it looks awkward he certainly wasn't feeling that way!
#6. Katy Perry's Superfan
Nothing more awkward than having your own face tattooed on someone else's back. Yikes!
#7. Rihanna's Scared Selfie
Rihanna looks pretty horrified when this fan snuck a selfie without asking. (I don't know why he's pretty cute!
#8. The Duchess Is Dazed
Usually Kate Middleton looks put together, but this fan photo proves that everyone takes a bad pic sometimes.
#9. 9021 – NO!
Former 90120 star Luke Perry takes what I would say is the most awkward fan photo of all time!
#10. The Double Selfie
This fan was so excited to meet his idol Kim Kardashian he needed TWO cameras for this selfie…
#11. The Selfie You Don't Remember
If you're going to take a picture with your favorite star, make sure you stay awake.
Tom Hanks looks like he's having fun though.
#12. The Sneaky Selfie
This fan photo was one of the many things that ruined Robin Thicke's marriage.
He was caught groping this fan in the reflection.
It doesn't get more awkward than that.
#13. Justin's Inappropriate Photo
Erm, well the fan's not complaining…
#14. Fey's Face
Comedian Tina Fey is always up for a laugh and this fan photo certainly proves it.
#15. Hugh's Had It
Hugh Grant's like: "Just take the bloody picture already!"
#16. Luke Likes What He Sees
Looks like Luke Wilson was too busy looking at something else than take this pic.
#17. Robert Has A Peek
I wonder what happened after this pic was taken…
#18. Baby, Not This Time
Imagine you've been fantasizing about meeting Britney your whole life.
But her management says you can look but you can't touch.
Awkward!
#19. Stewart Swears
John Stewart doesn't like the person taking the picture!
#20. Antonio Assaulted!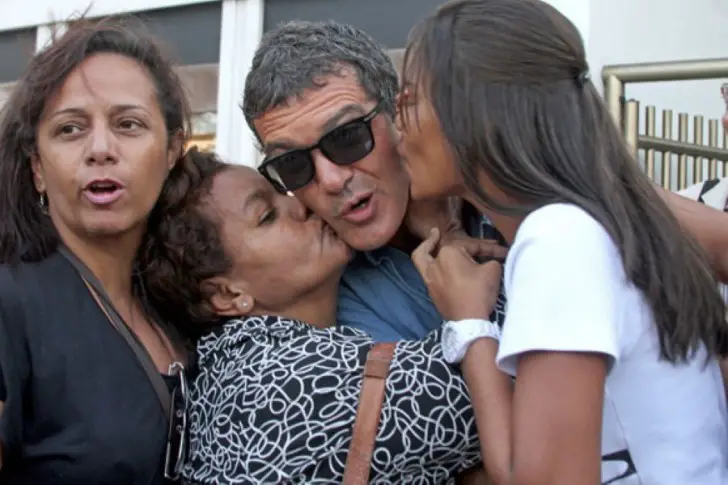 Antonio Banderas got straight up attacked by this mother daughter duo. (But he is so damn sexy!)
#21. Spike Lee Is Not Amused
Spike Lee is not having fun in this pic – but at least the fan and her photo bombing fan did!
#22. Avril Ain't Having It
Taking Britney Spears line of avoiding touching her fans – Avril Lavigne also choose to stay far apart from her fans as she can.
#23. Cage Is Crashed
Cage certainly wasn't ready for this selfie on a plane! Was he tired or a little tipsy – YOU decide?
#24. Gaga's Over It
When was the last time you saw Lady Gaga doing the 'monster sign?' Well this was probably the last time.
#25. Who's The Famous One Again?
Well, at least he got to meet him – even if this fan takes up the whole selfie.
#26. George Is Always Smooth
George Clooney and his biggest admirer…
#27. Tyra's Tired
Tyra is really trying to find her smize in this picture. But she's clearly not impressed!
#28. Russell's Randy
Russell Brand clearly misread the signals!
#29. Bieber Breaks The Rule
Bieber makes fans dreams come true…
#30. When Meeting Your Idol Is More Important
Peter Facinelli made this Twilight fans day after she waited all day to meet him. R.I.P Kitty.
#31. Hanks Is Fed Up
Tom Hanks is like: "Dudes, I just want to do some shopping."
#32. Iggy Insania
When meeting rock stars goes wrong…
#33. Superman's Not Impressed
The original Superman Christopher Reeves is not impressed with this guy trying to come for his title.