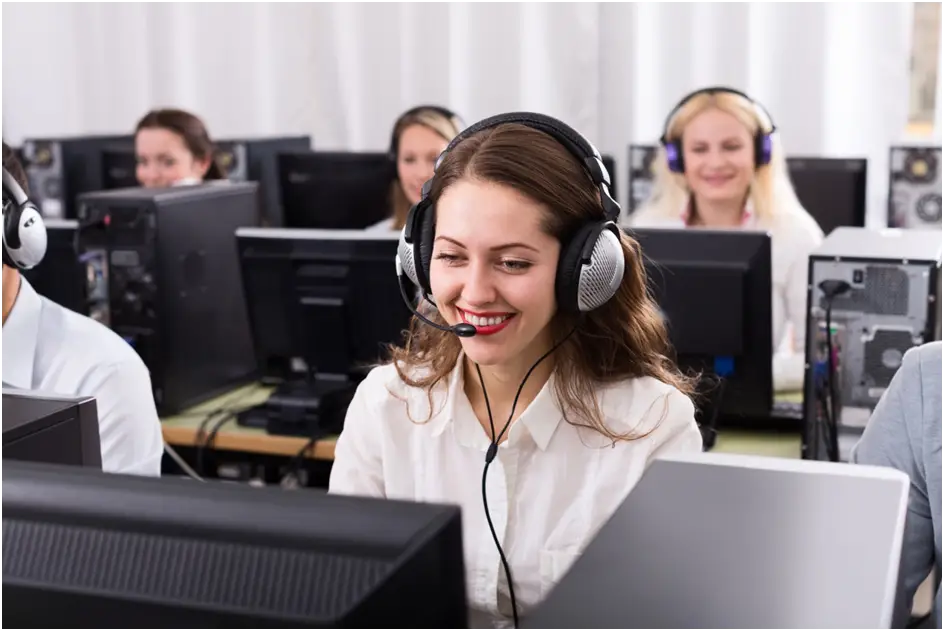 Is there room for improvement in your customer service operation?
Employing call center services might be the solution you need to keep your business moving forward successfully. A call center can help you provide world-class customer support via one-on-one interactions with your clients.
Check out our guide to learn all about the ways that call centers can improve your inbound customer service.
1) Improves Customer Service
Call center services are a great way to improve inbound customer services and the customer experience overall. By implementing technologies like Automated Call Distributors (ACD) and Interactive Voice Response (IVR), call center agents are able to handle incoming calls more efficiently and provide the customer with a more satisfying customer service experience.
Additionally, through Call Center Analytics, it is possible to identify customer service issues swiftly and take immediate action to resolve them. By closely analyzing customer conversation data, call centers are able to identify areas of improvement in customer service and create strategies to make sure that those issues are addressed in a timely manner.
Furthermore, by providing customers with the opportunity to contact the customer service center through digital channels like phone, email, chat, or text, customer convenience can be increased and response times decreased, resulting in improved customer service and an enhanced customer experience.
2) Boost Customer Loyalty
Call center services provide an important platform for inbound customer service and can be instrumental in boosting customer loyalty. Agents should be trained to quickly and accurately resolve customer inquiries to reduce customer wait time in queues and improve customer experience.
Agents can be trained to provide personalized service, enhancing the customer experience. To further improve customer service, organizations should keep refining their scripts, automate or streamline processes, and offer multilingual support. Automation tools, like chatbots, can deflect routine calls and free up agents to focus on more complex customer inquiries.
Organizations can use technology to monitor customer satisfaction, identify areas of improvement, and offer more services. By promptly addressing customer complaints, providing timely support, and offering innovative solutions, call center service can not only improve customer service but also boost customer loyalty over the long term.
3) Cost-Effective Support
Inbound call center services can improve customer service cost-effectively by providing knowledgeable customer service representatives that are available for additional support when needed. These representatives should be able to address customer inquiries and help properly address customer complaints in an appropriate manner.
Customers should also have easy access to customer service representatives who can assist them through toll-free numbers, online access, email, and other forms of customer interaction.
Training staff on cost-effective customer service techniques is essential to reducing costs associated with customer service while still providing quality customer service.
4) Increased Efficiency
Call center services are essential for a business to provide effective and efficient customer service. To ensure quality customer service, call center services can implement various strategies to improve inbound customer service, such as increasing automation, creating personalized experiences, and focusing on customer feedback.
By incorporating automated solutions, call center services can improve customer service efficiency, reducing the number of call transfers and dialing time. Additionally, by utilizing customer insights and feedback, businesses can create personalized experiences for customers, resulting in increased customer satisfaction while decreasing costs due to reduced customer support time.
5) 24×7 Support
Call center services are often used in the customer service industry. They can help to improve inbound customer service in many ways. Companies like times7 Support offer 24/7 support for customer service inquiries. By offering around-the-clock customer service, businesses can ensure that inquiries are answered quickly and effectively.
Additionally, call centers can make use of remote call answering services to assist customers when an in-person customer service rep is not available. This allows customers to receive the help they need no matter the time or place, even when a contact center representative is not present.
Also, call centers can utilize automated voice recognition systems to quickly connect customers to the right support team member. This can help streamline and improve response times and reduce the wait time for customers.
6) Personalized Support
Call center services can have a major impact on improving the inbound customer service experience when it comes to personalized support. Personalized support involves building relationships with customers, understanding their needs, addressing complaints, resolving issues, and making sure they return as loyal customers.
One way to improve inbound customer service personalized support is to offer customer service agents adequate and ongoing training. Training agents should focus on communication skills, problem-solving, and customer relationship building.
In addition, agents should have access to the customer's complete service history so that they are better prepared to resolve issues quickly and efficiently.
7) Lower Operational Costs
These inbound call center services can improve inbound customer service by lowering operational costs in numerous ways. Implementing automation of repetitive processes such as customer self-service, auto-attendants, and interactive voice response systems can help reduce staffing requirements.
Automation minimizes the need to maintain staff for every customer inquiry or concern that arises, allowing for more efficient service delivery and cost savings. At the same time, organizations can use customer relationship management (CRM) technologies to integrate data from multiple sources into one unified view, making customer service more efficient.
Additionally, leveraging cloud-based technologies can help reduce the cost of hardware and software and enable virtual customer support, allowing businesses to drastically lower their cost of customer service. 
Learn More About Inbound Customer Service
Inbound customer service is an essential component of any successful business. Call center services offer the opportunity to provide personalized customer support in order to increase loyalty and satisfaction.
With the right strategies in place, call center services can significantly improve inbound customer service.
Did you find this article helpful? Check out the rest of our blog for more!