Welcome to Paris, the City of Light, often hailed as the international epicenter of art and culture. With its mesmerizing array of galleries and museums, Paris is truly an art lover's paradise. From the iconic works residing within the famed Louvre to the avant-garde collections in the Pompidou Centre, the city offers a diverse artistic feast, satisfying the tastes of both classical art connoisseurs and contemporary art enthusiasts alike. But remember, just like a well-aged French wine, Paris's art scene is best savoured slowly, allowing the flavours of each masterpiece to linger and intrigue.
Musée du Louvre
The Musée du Louvre, often simply referred to as the Louvre, is an iconic institution that no visitor to Paris should miss. Known globally for housing Leonardo da Vinci's "Mona Lisa", the Louvre is the world's largest art museum and a historic monument in Paris. It's located in the city's 1st arrondissement, on the Right Bank of the Seine. Before you visit, whether through the Louvre Museum Tour or on your own, it's important to note that the Louvre is immense, boasting over 35,000 works of art spread across more than 650,000 square feet of gallery space. Therefore, planning your visit ahead of time is crucial. Consider focusing on just a section or two rather than attempting to see everything in one visit. This will help avoid overwhelm and truly appreciate the art in front of you. The museum is divided into eight curatorial departments: Near Eastern Antiquities; Egyptian Antiquities; Greek, Etruscan, and Roman Antiquities; Islamic Art; Sculpture; Decorative Arts; Paintings; Prints and Drawings. Each department houses thousands of works, so you may want to research in advance which collections most align with your interests.
Musée d'Orsay
The Musée d'Orsay is another must-visit Parisian art institution, renowned for its extensive collection of Impressionist and Post-Impressionist masterpieces. Housed in a stunning Beaux-Arts railway station built between 1898 and 1900, the museum is located on the left bank of the Seine, opposite the Tuileries Gardens. Before visiting, it's vital to understand the scope of the Musée d'Orsay's collection. The museum holds works from some of the most legendary artists of the 19th and early 20th centuries, including Monet, Renoir, Degas, Van Gogh, and countless others. The museum's collection is divided into several sections: painting, sculpture, decorative arts, photography, and graphic art. Notably, the Musée d'Orsay boasts the world's largest collection of Impressionist and Post-Impressionist art, making it an absolute haven for fans of these movements.
Centre Pompidou
The Centre Pompidou, also known as the Pompidou Centre in English, is a striking edifice in the Beaubourg area of the 4th arrondissement, renowned for its high-tech architecture and vibrant atmosphere. Within its premises, you can find the Bibliothèque Publique d'information, a spacious public library, along with the Musée National d'Art Moderne, the largest museum of modern art in Europe. Additionally, IRCAM, a hub dedicated to music and acoustic research, is also situated here. The exterior of the Pompidou Centre is distinctive due to its exposed skeleton of brightly coloured tubes, ducts, and pipes, encapsulating the spirit of 20th-century architectural innovation. Inside, visitors can explore an extensive collection of over 100,000 works of art, including pieces by Picasso, Duchamp, Ernst, and Kandinsky. When preparing for a visit to the Centre Pompidou, it's helpful to know that the museum is split into two main sections: the modern period, from 1905 to 1960 (which includes Cubist paintings, surrealism, and abstract art), and the contemporary period, from 1960 to the present day.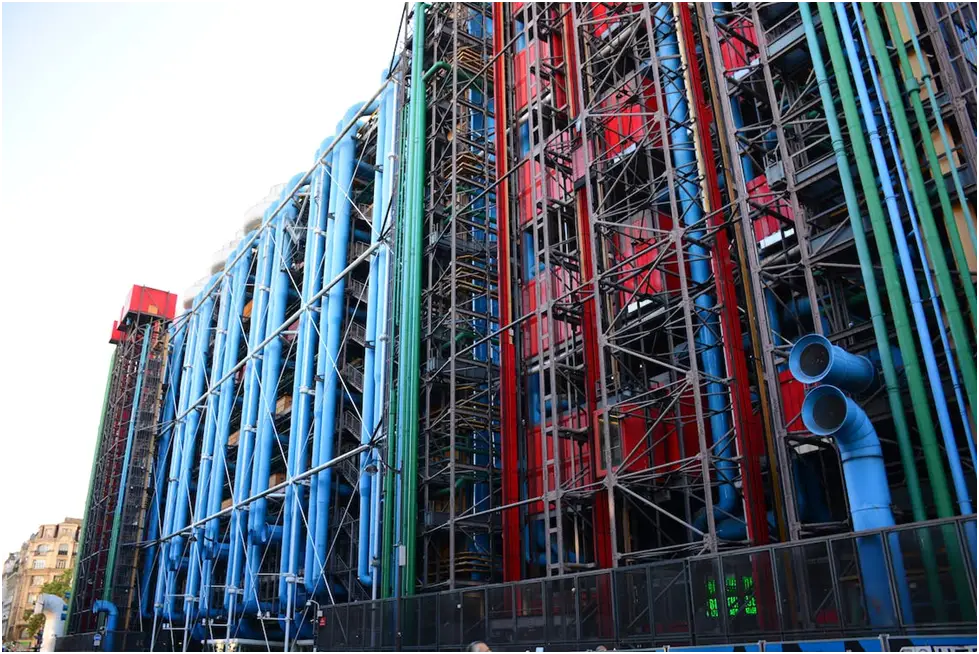 Musée Rodin
The Musée Rodin, devoted to the works of the renowned French sculptor Auguste Rodin, is another unmissable stop for art lovers in Paris. Nestled within an 18th-century mansion known as the Hôtel Biron, the museum is situated in the 7th arrondissement, close to Les Invalides. The museum showcases Rodin's creative genius through a wide array of his works, including famed pieces such as "The Thinker," "The Gates of Hell," and "The Burghers of Calais." The museum also boasts a sculpture garden filled with more than a dozen of Rodin's large-scale works set amidst beautifully manicured grounds – a perfect spot to relax and contemplate the intricate details of his bronze masterpieces. When planning your visit, keep in mind that the museum is split into various sections, each focusing on different aspects of Rodin's life and work. These include his early works, the creation of The Gates of Hell, portraits, and marble sculptures. Apart from Rodin's masterpieces, the museum also houses an impressive collection of works by Camille Claudel, a talented sculptor, and Rodin's student and lover.
Musée de l'Orangerie
Finally, round off your art journey at the Musée de l'Orangerie, best known for its two oval rooms containing Monet's Water Lilies, a truly immersive and serene experience. The museum is located in the Jardin des Tuileries, near the Louvre. In addition to Monet's work, you can also find masterpieces by other prominent artists such as Cézanne, Renoir, Picasso, Matisse, Modigliani, and Derain. As with all of Paris' great galleries and museums, it pays to plan your visit to the Musée de l'Orangerie carefully. Pick up a map when you arrive, and determine which pieces are must-sees for you. Also, check out the temporary exhibitions on display – often they feature works from lesser-known artists deserving of more recognition. 
Paris's eclectic art scene isn't limited solely to museums and galleries. With its numerous music venues, performance spaces, and clubs, the French capital has long been a hub for creative expression. Whether you're looking for an alternative art experience or just want to soak up the city's unique culture, be sure to check out some of Paris's many music venues and nightlife spots. From jazz clubs to avant-garde performance spaces, the possibilities are endless! And don't forget to take in the incredible street art that adorns countless surfaces throughout the city – a reminder of Paris's vibrant and ever-evolving art scene.