Before Beyonce became the mega superstar she is today, she made her name in her home city of Houston.
So naturally Queen Bey was on hand to help as she returned to Houston to help the victims of Hurricane Harvey.
Beyonce, her daughter Blue Ivy and mother Tina Lawson were seen at a feeding station, handing out meals of rice and beans to people in need.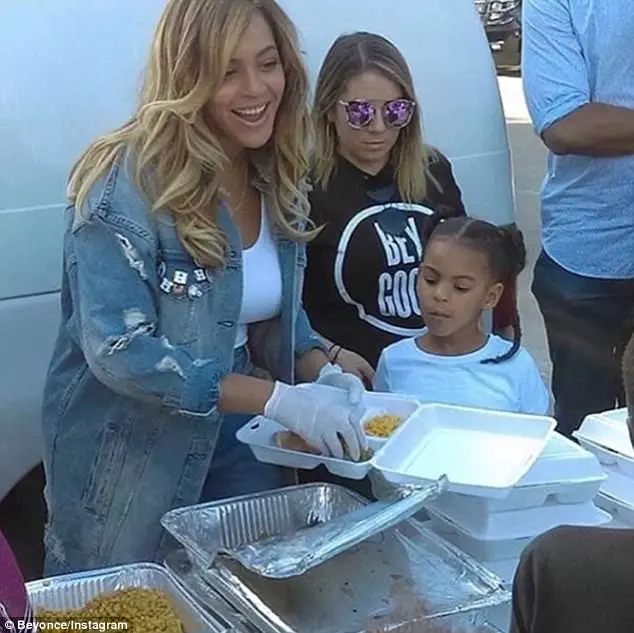 Five-year-old Blue Ivy was dressed in a simple white T-shirt and looked on as her smiling mother talked to every person she served.
Beyonce also handed out supplies which included baby diapers, sanitary towels and various other toiletries.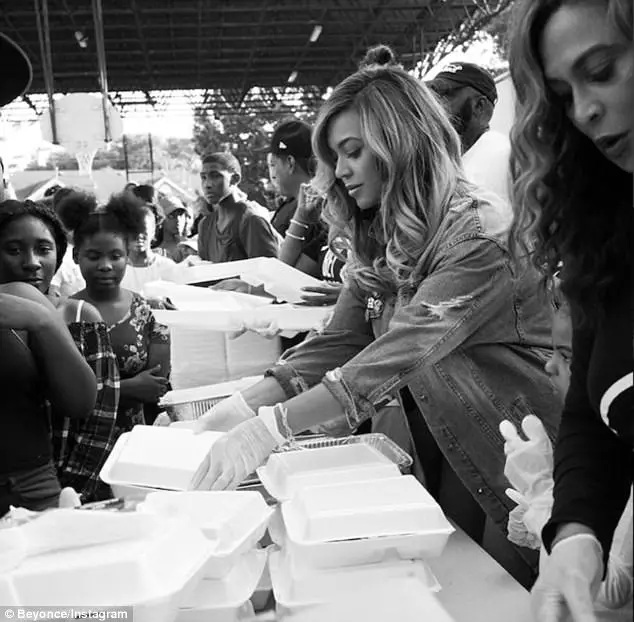 The mother-of-three also shared words of encouragement as she spoke to the congregation at St. John's Church on Friday afternoon.
The singer was emotional as she spoke at the service which was 'a celebration of survival.' Her appearance came two weeks after the disaster first struck the area.
'I just wanna say I love you,' said the 36-year-old songstress – who was also accompanied by her mother Tina Knowles Lawson, 63, and Destiny's Child bandmate Michelle Williams, 37.
'I sang my first solo here,' the Grammy-winning artist said, 'and I just wanna thank you for lifting my family up, for praying for me, and for being such an incredible example of what light and love is.'  
The 'Formation' singer made clear that despite her international fame and fortune, her heart was with her hometown in the wake of the disaster.
'I just wanna say that I'm home,' Beyonce said Friday of her birthplace in the wake of the hurricane, which initially hit August 25.
The hurricane dropped in excess of 50 inches of rain while leaving at least 60 people dead. The damage is estimated to be about $180 billion, and has displaced residents in more than 203,000 households, according to Reuters.
'This church is my home,' Beyonce said proudly. 'I was maybe nine- or 10-years-old the first time I sat there where my daughter is sitting.'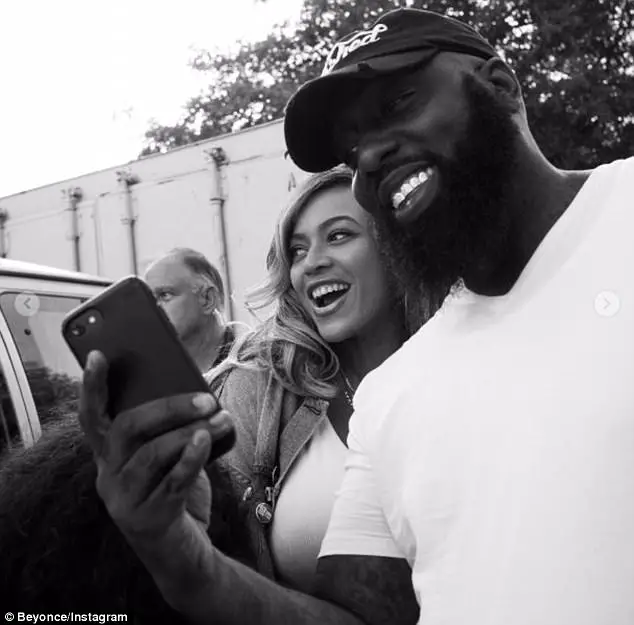 'Y'all are my family, Houston is my home and I thank God that you're safe, that your children are safe.'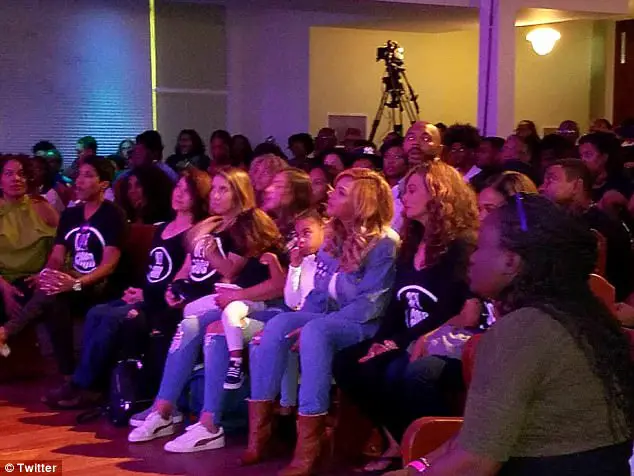 Writing on Instagram, Beyonce also thanked fans who helped contribute to her fundraising.
'Thanks to everyone who donated to BeyGOOD and contributed to helping so many families in Houston. Thank you Pastor Rudy, Michelle, Ingrid and all at St. John's Church,' Beyonce wrote.
'Thank you to Trae Tha Truth and your crew. Y'all are so consistently dedicated to our community. Thank you!! There is still work to do so please continue to donate and do all you can to restore our city.'
On Tuesday, Beyonce will be in front of the cameras along with Oprah Winfrey, Blake Shelton and Barbra Streisand for an hour-long telethon for victims of the hurricane.
https://www.instagram.com/p/BYy1ULUlYk5/?taken-by=theshaderoom
It will be broadcast on all four networks – ABC, CBS, NBC and Fox – as well as CMT. 
The telethon will also feature appearances from Bey's Destiny Child bandmate Kelly Rowland.
A-listers such as Jamie Foxx, Reese Witherspoon, George Clooney and Matthew McConaughey will also make an appearance.