In this day and age, for both black and white women, hair extensions have become the norm.
Some may choose to wear extensions because of fashion – others because of hair loss or to add body.
The point is women have a choice, and we shouldn't be shamed if we decide we want to wear extensions or rock our natural hair.
So it's heartbreaking to see that sixteen-year-old Nicole Orr should be made to feel that the hair that grows from her head is not good enough.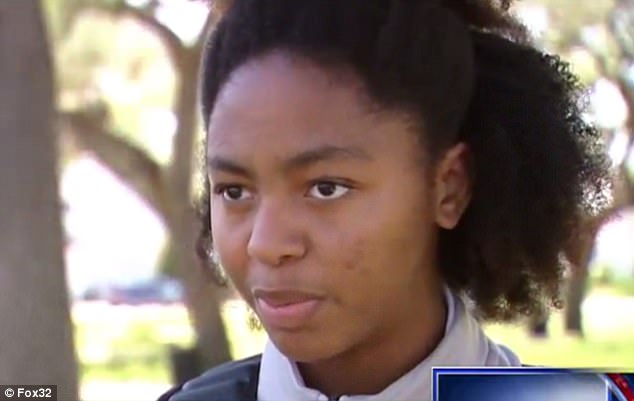 Montverde Academy in Lake County in Florida where Nicole goes to school demanded she change her natural hair because it violates its dress code.
Her parents Secily Wilson and Eric Orr were furious when their daughter told them what was asked of her.
Her family say their daughter, is a straight-A student at the private academy and felt "singled out" by the request.
'She literally felt, 'Wow, what's wrong with my hair? The Caucasian girls are able to wear their natural hair straight. Why can't I wear my natural hair the way that it grows?' Wilson told Fox.
When Nicole's parens went to the school to confront them about the issue they were referred to the school's handbook.
The handbook states that 'dread-like' hair is banned. Nicole's father Eric Orr argued that it was an ambiguous term.
He believed the term was used "to target a certain person or a certain group."
Dr. Kasey Kesselring, Montverde's headmaster, claimed that the policy had been 'more in line with that neat and organized look we are go for'.
'Not so much the issue of dread locks per say,' he added.
However, since meeting with Nicole's parents, the school reversed its decision and decided to remove the 'dread lock' line from the handbook 'so no one is singled out.'
Nicole's parents were delighted.
'To know that we were able to help our daughter and all the other daughters or boys out there… we feel pretty good about it,' Nicole's mom said.
The comes just days after the adoptive mother of two black students branded their Boston school Malden's Mystic Valley Regional Charter School racist.
Her daughters were banned from extracurricular activities and given detention for having braided hair.
Twin sisters Deanna and Mya Scott, 15, were banned from track, the Latin Club and all school events after they came to school with braids.
CBS News
"I was really excited to be celebrating my culture because I have white parents and it's very important to participate in the culture," Mya told CBS Boston.
The American Civil Liberties Union of Massachusetts has filed a complaint against the school.
What do you guys think about schools getting involved in the way black children choose to wear their hair?