A family are in mourning after a woman's body was found in the Georgia River.
Shanequa Quanee Sullivan has been identified as the female with autism who went missing from Atlanta Airport a month ago.
The 23-year-old from Atlanta, Georgia, was spotted in the Yellow River, in Newton County, Georgia, on March 3.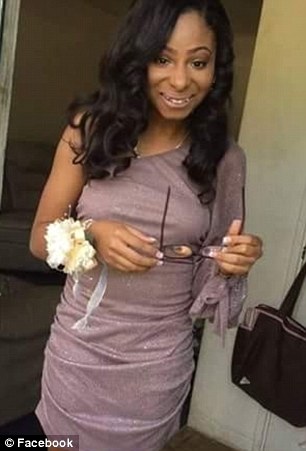 Pat Campbell made the grim discovery while he was fishing for white bass.
'I motored over it, and I saw the heel of a person, and initially thought it was a mannequin.'
'I got downwind of it and could tell it wasn't a mannequin and that's when I said it's time to call 911,' Campbell told WSBTV.
Authorities recovered Sullivan's body and confirmed the identity after an autopsy was performed.
It was not yet clear how Sullivan died and an investigation is ongoing, police said.
Sullivan disappeared four weeks earlier, on February 4.
She was last seen at Hartsfield-Jackson Atlanta International Airport, where she worked as a janitor.

FOX5
Sullivan's grandmother, Celeste Seabrum, told FOX5 Atlanta that surveillance cameras at the airport's rapid transit stop captured her trying to get on the train.
But her transit card was out of credits.
That was the last time Sullivan was seen.
Family and friends had been searching for Sullivan near the airport for weeks, but Sullivan was found about 40 miles away from there.
Sullivan had autism, which left her with the mental capacity of a 10-year-old.
But she had been making enough progress to hold down her job at the airport, her family told 11 Alive.
Seabrum, said her granddaughter 'wouldn't hurt a fly' and was 'the sweetest person.'
'She would befriend anybody and I had warned her about that. But I don't think it kind of clicked in her head,' Seabrum told 11 Alive.
Sadly, this not the first tragedy the Sullivan family have had to face.
In 2006, Shanequa's mom was murdered.
Sullivan was 11 years old at the time.