The Trump administration might not be winning any friends home abroad but there is one thing it has been able to do.
That is to reduce the amount of crime committed daily in America as a country.
Nevertheless, there are still plenty of societal bad eggs out there looking to turn innocent folks into victims of different crimes.
Thankfully, the United States of America's Second Amendment has helped in many ways to reduce the crime rate in the country.
The Second Amendment gives citizens the privilege to arm and protect themselves against criminals.
You can argue vehemently that this unique amendment to the law has also increased the rate of senseless killings but that is an argument for another day.
With this law, miscreants have to fear that they could come in contact with an armed citizen while committing crimes leading to an overall decline in crime rates.
This has deterred many from committing crimes, however, there are still a few daredevils that like to play the odds.
Thankfully a young nine-year-old boy was able to use the United States' Second Amendment for his benefit without any harm coming to him.
The nine-year-old boy whose name has been found to be Larry Larimore saved his father's car from being carjacked.
The incident took place a few days ago in Kokomo, Indiana after the young boy was left in a running car by his father Kevin Cooksey.
As reported by Breitbart, Kevin Cooksey had pulled up to a gas station store and went inside leaving his son in his running truck.
While looking around the store, Cooksey glanced outside and saw the truck door ajar, which immediately caused him to panic.
The Indiana state resident recalled the panic and anxiety that gripped him as he feared that his son had been kidnapped or even worse.
He told the media,
'When I saw my truck door open, I was like, 'oh my God, what am I going to tell my wife?'
In a huge state of panic, Kevin Cooksey hurried to his car where he found his son safe and sound, looking as calm as he could be.
It was his son who explained to him that a man had attempted to steal his car while he (Kevin) was in the gas station store.
According to a young Larry, an unidentified man had slipped into the running car expecting an easy theft as he thought the car was empty.
Before the criminal could do anything, little Larry whipped out his BB gun and pointed it at the thief's head.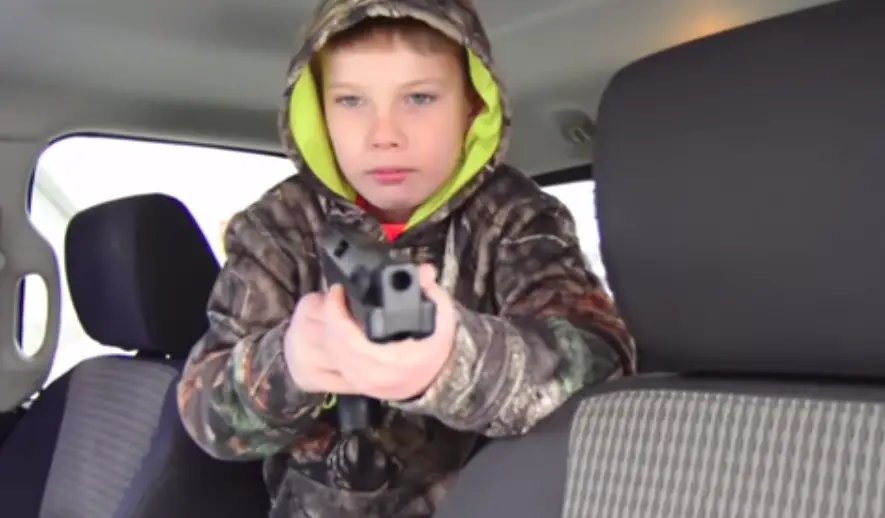 The thief must have thought that Larry was holding a real gun and with the Second Amendment running through his head, he fled.
In a panic, the would-be robber jumped into a black TrailBlazer belonging to another gas station customer which was also running and sped off.
The two men and boy chased the guy, reaching speeds of 70 mph before the thief wrecked the stolen TrailBlazer.
Larry described the thrilling chase and the dangerous antics of the man driving the TrailBlazer, saying,
'It was doing donuts, zigzags, almost flipped.'
But all credit to young Larry who remained as calm as one could be in the face of danger.
The youngster was later quoted as saying,
'As soon as he opened the door, I got scared. So I pulled out the pellet gun and pointed it to his head'.
Such quick thinking for a youngster.