I love John Legend and Chrissy Teigen's relationship. 
They seem to always be on the same page, have the same humor and most importantly are great parents to their little cutie Luna.
Last week the family took a vacay to Indonesia and have shared some stunning pictures of their trip on social media. 
The 31-year-old model and her 38-year-old Grammy-winning singer beau dazzled in traditional Indonesian attire. 
Chrissy looked radiant as she donned an elegant purple dress with gold detail and an opulent headdress. She posed alongside hubby John Legend yielded a staff and sported a gold crown.
Chrissy – who is half Thai – embraced her heritage as she posed with an ornate fan and henna, a form of body art, upon her arm.
Chrissy captioned the photo, 'We had the most beautiful, wonderful time in Bali,' adding, 'my body and mind have never felt so clear.'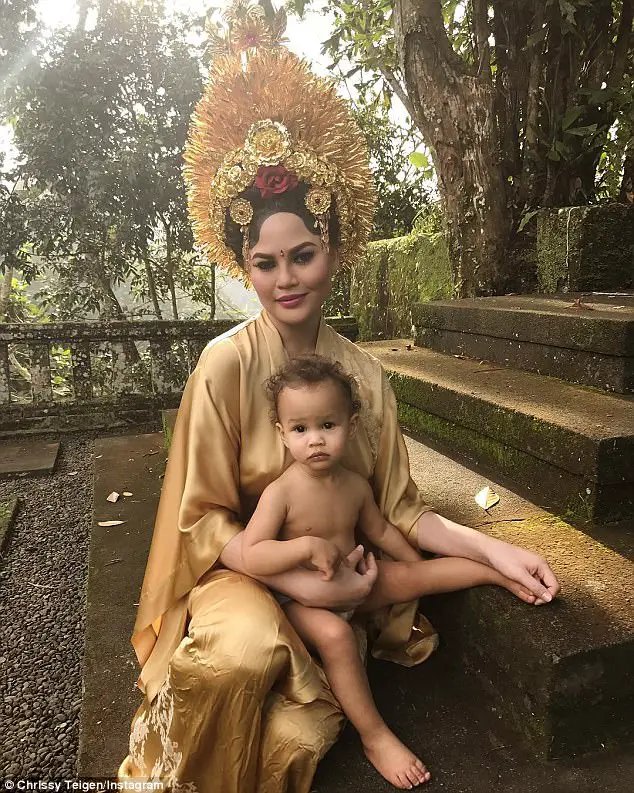 In another pic, the Lip Sync battle host showed off her golden headdress while holding her adorable baby daughter Luna.
Chrissy thanked the luxe Como Shambhala retreat where she and her family stayed 'for getting me to move again and giving me some much-needed body and nutrition schooling! (first time since I was 8 months pregnant and Luna is ummmm 15 months old.)'
She added: 'And thank you for dressing us in your beautiful, traditional ceremonial costumes!'
Showing her down to earth side Chrissy added; 'And don't worry, everyone. I still love me some .99 two tacos. Balance! #notbeingpaidtosaythis.'
The mother-of-one shared videos of the trip of her and her 'All Of Me' hubby hitting the gym. The couple worked out side by side as they did pull ups and squats together.
Legend could also be seen doting on his baby girl Luna.
Little Luna sure looked like she had an amazing vacation too. Her famous mama snapped a video of the toddler shaking her head and dancing to a tune.
This before the 18-month old fell square upon her behind. 
Chrissy captioned the video of her baby girl dancing along to the beat on Snapchat: 'Dancing, obviously.'
In another snap Chrissy is cocooned in a purple hammock.
The 5'9 model's smooth skin shines through, as her she peeks through and flashes the peace sign.
Chrissy and John married in 2013 and conceived their baby girl Luna via IVF back in 2015.
The model has been open with her followers about her fertility struggles.
She took to Twitter over the weekend to talk about the high cost of embryo storage.
'Damn how's my embryo gonna be in debt before it's even born,' she quipped. She continued in a separate tweet: 'PAY YA RENT, embryo!!!'