H&M has deservingly been having a bad week following a controversial ad depicting a young black child wearing a "Coolest Monkey in the Jungle" hoodie.
But the little boy at the center of the firestorm may soon be cashing in.
Music mogul Diddy is set to offer the child model a lucrative contract at his clothing brand Sean John.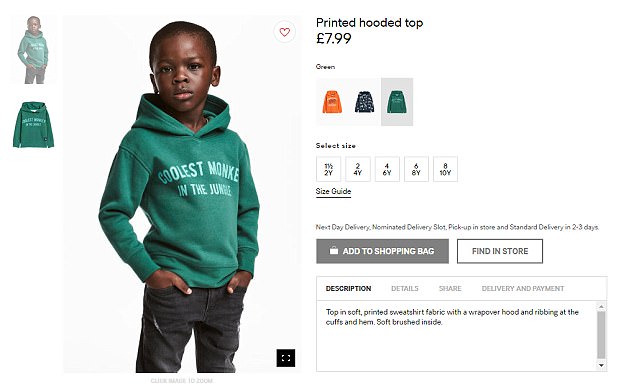 According to the British newspaper Metro, Diddy is reportedly offering the boy a one-million dollar modeling contract. 
There's no word yet if the young boy has accepted, and Diddy's team has refused to comment.
But it would be a great offer for the small boy, as this controversy is truly not his fault. It's interesting to note that the white model in the campaign wore a 'Survival Expert' hoodie. While the black child is wearing a 'coolest monkey in the jungle' hoodie.
Hmm…
Diddy is not only rumored to have offered the little boy a contract, but also came to his defense on Instagram yesterday.
He reposted a picture of model but changed the caption so it read: "Coolest King in the World."
Diddy wasn't the only one to bash H&M however.
Pusha T, Lebron James and & T.I. have all voiced their displeasure for the racist ad as well.
Meanwhile, The Weeknd has cut all ties with the brand after creating two successful lines for the retailer.
H&M has since issued a public apology, saying: "We understand that many people are upset about the image of the children's hoodie. We, who work at H&M, can only agree.'
'We're deeply sorry that the picture was taken, and we also regret the actual print.'
https://www.instagram.com/p/BdtS-hsBUNk/?taken-by=kingjames
The statement went on to  state, 'Therefore, we've not only removed the image from our channels, but also the garment from our product offering.'
'It's obvious that our routines haven't been followed properly. This is without any doubt. We'll thoroughly investigate why this happened to prevent this type of mistake from happening again.'