A guest who appeared on British talk show The Jeremy Kyle Show received online abuse because of her rotting teeth.
Gemma Swift from Crawley, U.K. appeared on the talk show last year for a segment entitled: "Stop Harassing Me Just Because I'm Sleeping With Your Ex."
Even though she was on the show for a completely different reason thousands of social media users commented on her teeth.
Gemma then received masses of online abuse from viewers over her appearance.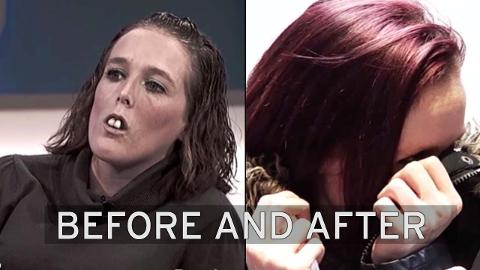 After being viciously trolled online, Gemma now has the last laugh as the talk show paid a whopping £10,000 ($12,000) for her to transform her smile.
Jeremy Kyle filmed the whole procedure and invited Gemma back on the show again for the grand unveiling.
In the episode Gemma was filmed in her house and spoke about the backlash over her appearance. "Twitter had a meltdown because of the way I looked. I broke down, I cried my eyes out," Gemma said.
Gemma revealed that she damaged her teeth following an accident at the age of six while she was walking to school – leaving her teeth badly damaged.
Gemma admitted she was badly bullied by her classmates over her teeth. "I left school when I was nearly fifteen because people were making fun of me."
Gemma was promised top of the range dentistry from leading U.K dentist Lance Knight. They both returned to the Jeremy Kyle Show to show off her dramatic transformation.
Showing off a brand new set of straight veneers, Gemma told Jeremy: "It's changed my life. I can look in the mirror now and not worry about anything. I'm a whole different person now."
Gemma then broke Twitter again – although thankfully the insults were few and far between.
One viewer wrote online: "At least now Gemma can be happy good luck to her", with another added: "Hold my hands up…I probably made a crack about her teeth. Feel rotten now."
Another Jeremy Kyle fan tweeted: "That Gemma with the teeth looks absolutely incredible on Jeremy Kyle. What a nice thing for them to do!"
A spokesperson for the show said in a statement: 'Gemma's teeth provoked a strong reaction from viewers and on social media after appearing on the show in January."
"The programme then arranged for her to have orthodontic work, the results of which will be were shown on the Jeremy Kyle Show."
Dentist Lance Knight explained Gemma will still need to undergo further dental work before her transformation is truly complete.