Most of us do our upmost to protect our kids from potential harm and danger.
But for one New York father he failed in the most unbelievable way.
Josh Perez has been charged with reckless endangerment, after leaving his infant daughter alone on a subway platform early Sunday morning.
The 26-year-old who lives in the Bronx, told police that he boarded an uptown 6 train with his six-month-old daughter.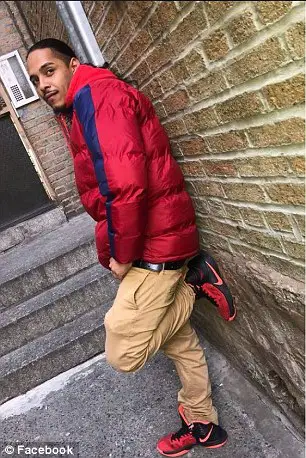 He then switched to a number 5 train at 125th Street.
Perez told authorities the next thing he remembers is waking up at the President Street station in Crown Heights.
The man was 12 miles away from his original destination and was without his baby girl.
Thankfully, a commuter spotted the infant at the 86th Street and Lexington Avenue station.
The child was found safely at the southbound platform where the 4, 5 and 6 trains operate, around 4.20am Eastern.
The good Samaritan alerted MTA officials, who called the police.
Upon their arrival at the 86th Street station, emergency responders immediately took the baby girl to New York-Presbyterian/Weill Cornell Medical Center for evaluation.
As authorities cared for the infant, they received a frantic call from Perez and his girlfriend, Vanessa Almodovar.
Police said Perez and Almodovar, 27, had been at a friend's house with their daughter.
The pair got into an argument inside the 110th street 6-line station, according to the New York Post.
Almodovar went back to the friend's house and left Perez to take the baby home.
Perez is suspected of being drunk, or high on drugs, or both, at the time, according to police sources cited by the Post.
It's still not clear how the baby ended up abandoned on the subway platform.
Authorities are reviewing footage to check Perez's story.
Police said Almodovar met investigators at the hospital and was reunited with her daughter.
Perez was initially held at the Transit District 4 substation in Union Square following his arrest.
He was charged with abandonment of a child, acting in a manner injurious to a child and reckless endangerment.
Sources told the Post that Perez has had several run-ins with the law, including 16 prior arrests.
A rep for the city's Administration for Children's Services said the agency is 'investigating the case with the NYPD'.