In a paradigm shift that has affected different people all around the world, more and more women are speaking out against sexual abuse.
Popular actress Annabella 'Bella' Thorne became the latest famous woman to open up about her experience at the hands of abusers.
Although fortunately for the industry, her story didn't finger any top personalities in the industry.
It is an open secret that media mogul Harvey Weinstein and 'X-Men: The Last Stand' director Brett Rather have both being disgraced following allegations of abuse.
This time around though, Bella Thorne who is twenty was most likely abused by someone in her immediate family.
Bella Thorne is known as a Disney starlet after she rose to fame with her role as Tancy Henrickson in the fourth season of 'Big Love'.
She also played the role of Cece Jones in the iconic Disney channel movie 'Shake It Up'.
Since then she has gone on to roles in movies such as 'Blended', 'Perfect High' and 'Big Sky'.
The actress who stars as Paige on the Freeform series, 'Famous in Love' spoke out in support of the Time's up campaign.
The Time's up Campaign totally revolutionized the Golden Globe awards show after hundreds of famous faces dressed in black as a show of solidarity against sexual assault.
As a child, Bella lost her father in a traffic accident when she was nine and was raised by her mother.
It was during this period of her life that she was abused; an abuse that didn't stop until she was fourteen.
In a heartbreaking message, the 'Blended' actress revealed that being sexually abused was one of her earliest childhood memories.
In the aftermath of her message, the actress received a huge outpouring of love and support from her fans on Twitter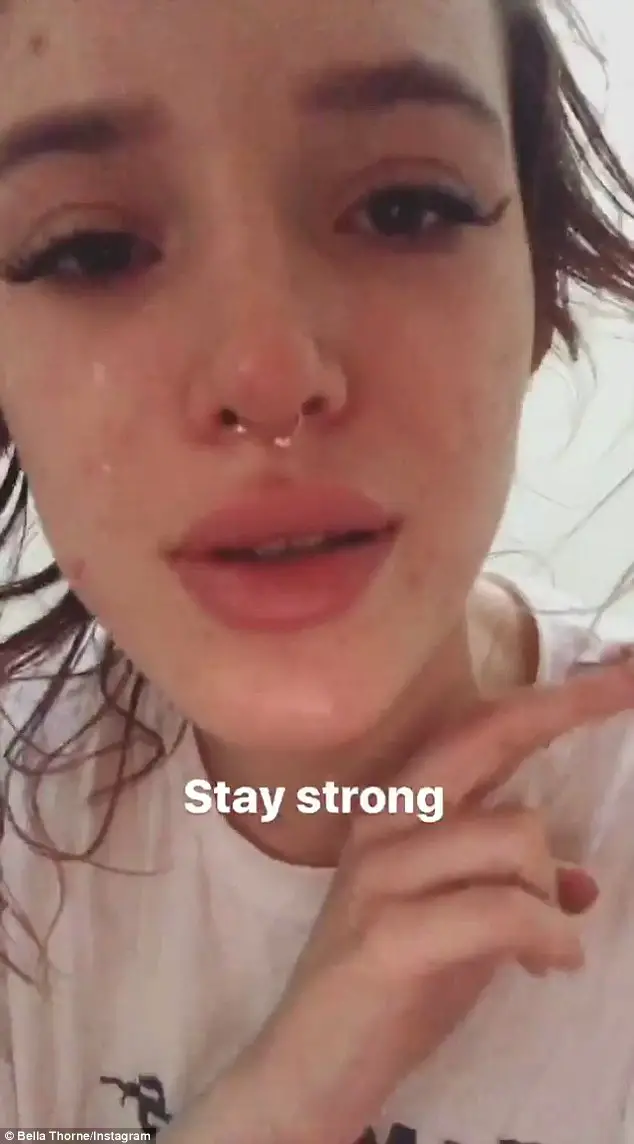 Some of them shared their own sexual abuse experiences with Bella Thorne while some encouraged her to remain strong.
Bella Thorne has since thanked her fans for their support and outpouring of love.
The former Disney star posted a tearful video to Instagram, in which she encouraged fans sharing their own stories, telling them,
'I'm so proud of you guys.'
Bella Thorne also wrote to her fans on her Twitter account.
'On Twitter, I'm reading about all the people sharing their sexual abuse stories with me, from mine, and I just wanna say, I'm really proud of all you guys. It's such a… I'm really proud. Stay strong. Peace, I love you guys.'
Describing the period of sexual abuse in her life, the actress had earlier written,
'I was sexually abused and physically growing up from the day I can remember till I was 14.

'I finally had the courage to lock my door at night and sit by it.'

'All damn night. Waiting for someone to take advantage of my life again.Over and over I waited for it to stop and finally it did.'
The Famous In Love star was unequivocal in her support of the Time's Up campaign as she tweeted,
'Some of us aren't as lucky to get out alive. Please, today stand up for every soul Mistreated. #timesup.'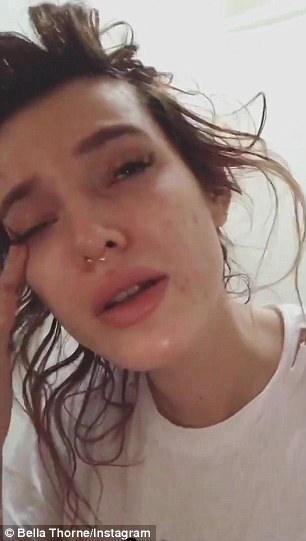 Her mother raised Bella and her three sisters, and the actress has previously talked of her difficult childhood, saying she suffered from dyslexia and was bullied at school for speaking Spanish.
She began working as a child actress aged just six, using the money to help support her family.