The loss of a loved one is difficult at any time.
But on birthdays, anniversaries and holidays – the pain is of course intensified.
For Funmi Afolarin, losing her husband and the father of her three children almost broke her. 
But the inspirational and brave woman, took to Facebook to share a touching message to celebrate what would have been his 40th birthday.
She shared some photoshopped pictures of her husband and their family.
While most have praised her strength and spirit, others have called the pictures 'creepy.'
But reading her post that accompanies the pictures, you can't help but feel compassion for the grieving widow.
See her post and photos below: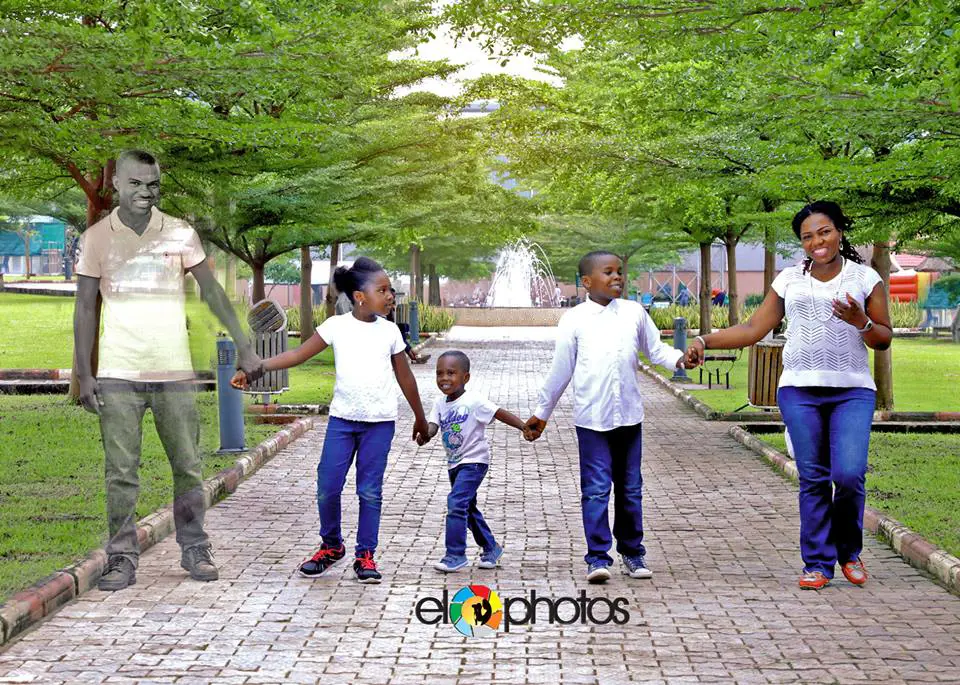 A Tribute To YOU: CELEBRATING MUYIWA AT 40:
'I remember waking you up that Monday morning to share with you the dream I just had about you passing on.'
'I remember being upset with you that we did not pray long enough to reject the dream from becoming a reality. I remember you telling me it's not the length of a prayer that determines whether our FATHER will answer. I remember your calmness amidst my worry.'
'I remember getting the call few hours later that morning. I remember sitting by your side around 11am with oxygen tank and drips attached to you'.
'I remember you telling me that you came back momentarily to tell me to let you go because your time was up. I remember being too shocked to cry and I am yet to cry the way the world expects.'
'You've been gone 996 days (not that I've been counting). You passed the torch to me with 3 angels to care for.'
'Since you've been gone, my relationship with the FATHER has gotten to another level for good. Since you've been gone, my understanding of your unconditional LOVE has been clearer.'
'Sometimes your youngest son, Murewa, asks after his dad and I don't know what to tell him.'
'Sometimes your firstborn, Fiiresayemi, says he can't remember your voice anymore and I try to play our wedding video for him.'
'Sometimes your only daughter, Foyinsayemi, just wants to go for a walk down the street to buy groceries with her father but I'm left to be your representative.'
'As you celebrate your 40th birthday in HEAVEN and as we remember today the time you spent with us in years past, may God use these pictures and the blessed memory of you to heal the millions of hearts that see this.'
'Like the unremovable birthmark we all have on our bodies, the memory of YOU & the God we serve will forever be engraved on our hearts.'
'With TEARS in my eyes and joy in my heart, knowing very well that you're reading this, I want you to know from the depths of my being that I LOVE YOU…. I ALWAYS HAVE AND ALWAYS WILL.'
'Happy Birthday SWEETHEART. Keep resting in the bosom of your LORD. Eternally Yours, Your Beautiful Wife, Funmi Afolarin.'