Aged a hundred and one, Kirk Douglas is one of the last living actors who had their heydays during the film industry's Golden Age.
The Golden Age of America's film industry was in the fifties and sixties and Kirk Douglas is one of the few performers who managed to etch his name in history during this period.
Kirk Douglas who is the father of Hollywood star Michael Douglas rose to fame after his role as an unscrupulous boxing hero in the movie 'Champion' was a success.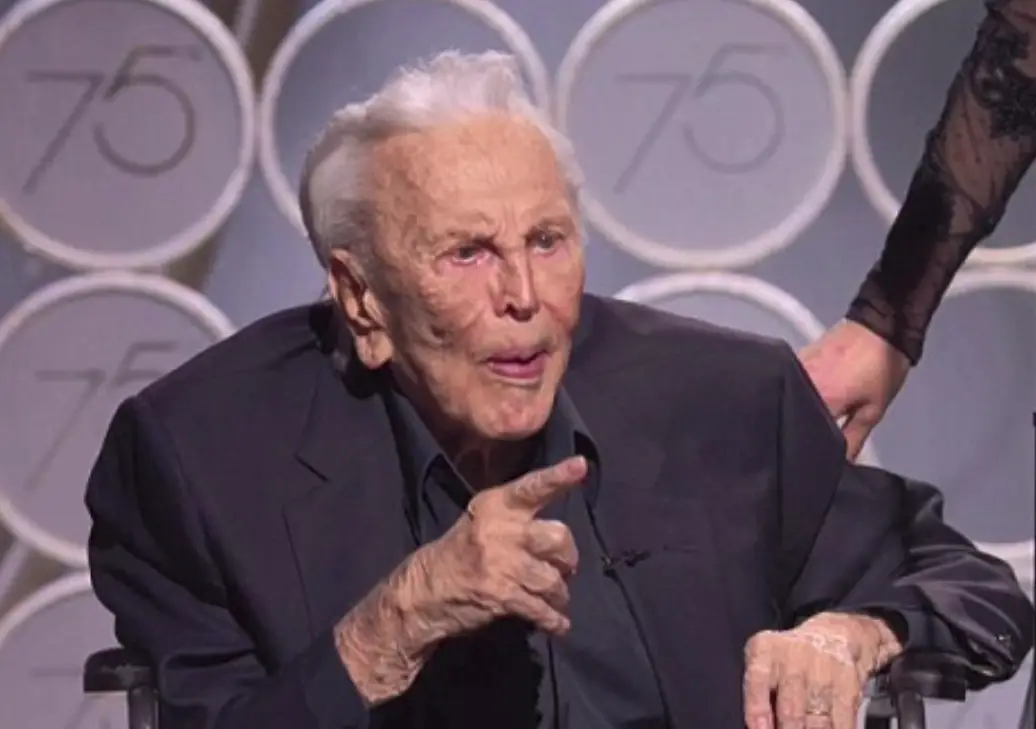 The legend's role in the movie brought him his first nomination for the Academy Award for Best actor and effectively shot him into the limelight.
Although he began his career with a debut in the movie 'The Strange Love of Martha Ivers' with Barbara Stanwyck, by the tail end of his career he had acted in over ninety movies and was known for his explosive acting style in serious dramas.
Kirk Douglas received a second Oscar nomination for his dramatic role in The Bad and the Beautiful (1952), opposite Lana Turner, and his third nomination for portraying Vincent van Gogh in Lust for Life.
That glittering career was honored at the just concluded 75th Annual Golden Globes award which held in Los Angeles on Saturday.
Although he was in a wheelchair and some parts of his speech was inaudible, Kirk Douglas managed to steal the show after he was brought on stage together with his daughter-in-law Catherine Zeta-Jones to present an award.
Kirk and Catherine held hands united on stage as they showed they have developed a very close bond with one another over the past seventeen years.
Catherine Zeta Jones is the wife of Kirk's actor son Michael Douglas and she first met Kirk Douglas seventeen years ago.
The pair did look adorable as Kirk Douglas despite his advanced years managed to keep up with the theme of the evening in a black suit with a black shirt.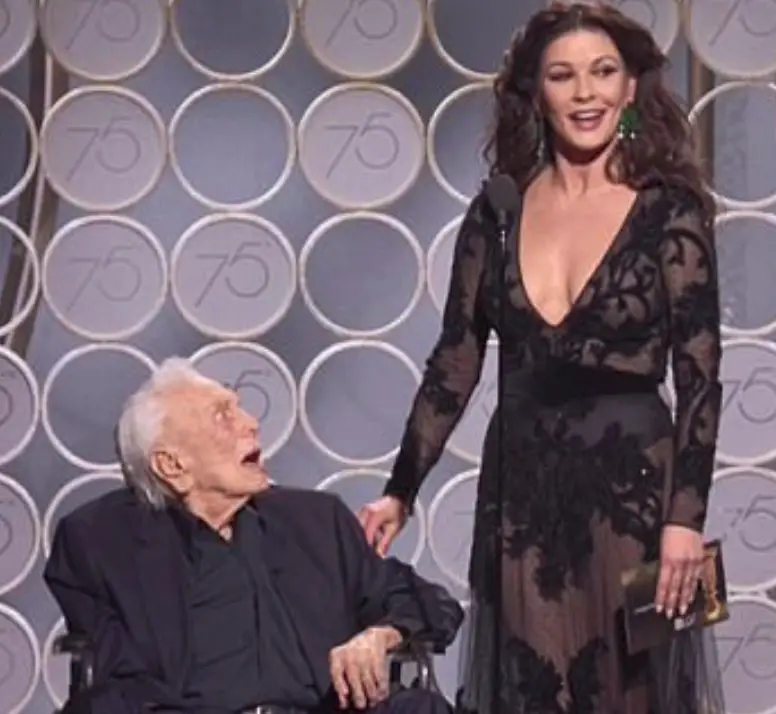 His daughter-in-law and 'Mask of Zorro' star wowed in a black semi-sheer gown which featured intricate lace embroidery and a plunging neckline that showed off her ample cleavage.
The actress paid tribute to her father-in-law's glittering and game-changing career with her words.
She said,
'In 1991 my father in law, this living Hollywood legend Kirk, was recognized by the Writer's Guild Of America for his role in ending the Hollywood Blacklist'.
The blacklist saw entertainment professionals denied work because they were accused of having Communist ties.
Catherine Zeta Jones then went on to remind the audience of her father-in-law's bravery, touching on how Kirk hired the screenwriter Dalton Trumbo to write the Hollywood epic Spartacus and insisted his name appear as a writer.
Kirk responded to Catherine's words, although in parts his speech was inaudible.
'Catherine, You said it all. I would have made a speech but I don't want to say it.'
He paused, and told Catherine with a smile, 'I could never follow you.'
Legend #KirkDouglas RT @goldenglobes: Catherine Zeta-Jones joins her father-in-law Kirk Douglas on stage to present the award for Best Screenplay – Motion Picture! #GoldenGlobes pic.twitter.com/CcsnSK2kux

— ✌cnurys❤ (@cnurys) January 8, 2018
The chemistry between the pair was obvious as the actress replied holding his hand,
The pair were escorted off stage with a dazzling standing ovation as they managed to make the night a memorable one for all present.