When you hear Dyson, you think of advanced technology and innovation. This is what the gadget giant tried to implement in its new hair dryer, Supersonic. The device is really different from traditional appliances of its kind, having an ultra compact futuristic design, with the engine placed in the handle, and being packed with intelligent features that set it apart from your old blow dryer. So how good is a Dyson Supersonic hair dryer? Read on to know the answer to this question and decide whether it is your perfect match or not.
Innovations
1. More powerful engine placed in the handle
One the things that set Supersonic apart from its elder mates, and which is considered to ease up the drying task, is the placement of the engine. In spite of being more powerful, the motor acquires a more compact and light design that allows it to fit in the handle. This clever decision of Dyson engineers reduces the arm ache that is commonplace to people who use dryers with the heavy motor located in the head.
Moreover, the smart placement prevents long strands from getting sucked up in the fan. Aside from being compact and light, the motor is incredibly powerful, allowing to dry the hair really fast and avoid being late to important events.
2. Temperature control
Such a powerful motor is accompanied by rigorous safety measures. The dryer is fitted with a revolutionary microprocessor that measures air temperature 40 times a second. It helps monitor the airflow and restore temperature deviations immediately, preventing hair heat damage.
3. Noise reduction
What also makes this Supersonic dryer stand out from the pack is the reduced noise during operation. The device is equipped with a sound dampening mechanism that makes the work less loud. Although certain sounds can be heard, they are significantly lower than in traditional dryers. This allows you to have conversations with someone and not disturb children from watching cartoons in the next room.
4. Hair styling
Unlike past-generation hair dryers, Supersonic is multipurpose, allowing to style the hair while drying it. The concentrator nozzle provides a jet of air directed on a single section of hair. This, in turn, helps to define curls and make them more voluminous and eye-catching. You can also use this straightforward nozzle in combination with the highest speed mode to tame stubborn strands setting them in a desired position.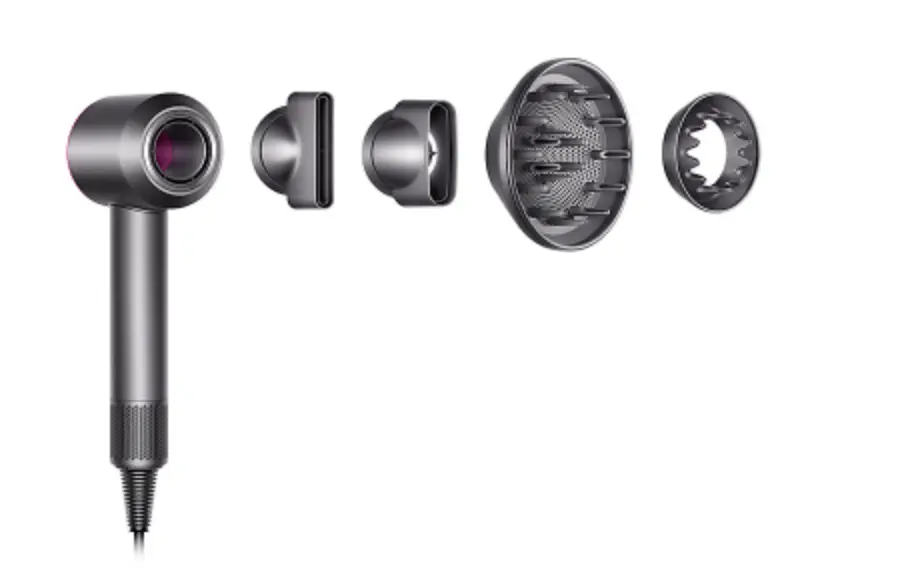 The diffuser attachment has a role in adding volume and body to the dull hair, making it look fuller and more stylish. By directing the airflow downwards, and not at an angle, the dryer manages to straighten the hair and restore its shine by closing the cuticles and making them reflect light better.
Is it worth the price?
When you intend to buy Dyson Supersonic, you will notice that its price is considerably higher than the price of traditional dryers. It is not cheap, but if you want to add convenience, quality and speed to your hair drying routine, it's worth every penny you pay. Not to mention the durable materials and topmost-quality technology used that prevent repair costs.