Having a sense of smell can bring great pleasure to people. Whether it's the aroma of freshly cut grass, beautiful flowers, or a favorite meal being prepared, all can bring delight. Scents can also remind people of happy memories in a similar way to music. Because humans enjoy different aromas, they have adorned themselves with them throughout history. The oldest known perfume factory was discovered in Cyprus, and it dates back to 2000 BC.
It may be that you are going on a date sometime soon, and are eager to impress. You may be focusing on buying skin care products and making yourself look nice. As well as wearing the right clothes, cologne can also enhance your first impression. Perhaps you have been looking around the shops and are unsure which scent to buy, however. It's no surprise because there are thousands of products in this multi-billion pound industry. Don't worry if you are in need of some extra guidance, because this article can help you choose the most suitable option.
Understand The Different Types
If you want something that could last between six and eight hours, perfume is your best (and most expensive) option. This is because it is the strongest concoction, containing between 20% and 30% perfume oils. Eau de Parfum is the next one down, lasting for between four and five hours. Eau de Toilette would last for a date if you were only meeting up for two to three hours. You could save money by purchasing Eau de Cologne Or Eau Fraiche but you'd need to top it up every two hours – and it could be a weaker scent, too.
A great way to shop around is to go online. If you are anxious to buy colognes that will help you get laid you can check out such options as Versace 'Eros', Azzaro 'Wanted By Night', or Dolce And Gabbana 'The One'. You can read cologne reviews and product notes, and find out who they are best for. The internet can also teach you about the four different scent families: woody, oriental, fresh, and floral.
Get To Grips With Notes
When people eat curries or Thai meals they frequently discern the different ingredients and spices while they eat. In a similar way, you may first detect a certain scent and later on another followed by the most enduring one. They are known as notes; the layered tiers within cologne. The overall smell will be a combination of all three: the top, middle and base notes.
It's the lightest note that your date will first detect, such as fruity or spicy aromas. Then come the middle notes such as rose, lemongrass, or jasmine. Finally, the base note will emerge and remain for several hours. This might be vanilla, leather, tobacco, or sandalwood.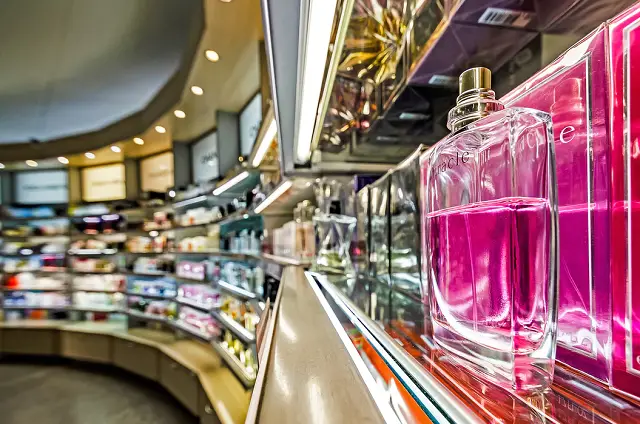 Test It First
The same medication can have two different effects on two different people. In a similar way, colognes can interact with people's bodies in different ways. This occurs as the fragrance meets peoples' hormones and pheromones. Whilst fragrances have a generic scent in the bottle, they may smell nice on one person and less so on another. This is why you should spray a test bottle on your skin and ideally leave it on for twenty minutes before you buy. Many shops offer free testing strips but they obviously won't interact with your body.
Whilst in the store you should beware of putting too many brands on your neck, elbows, or wrists, as you may confuse the different smells. When it comes to first dates, the top scent is the most important. The best place to spray cologne is on your pulse points as these warmer body areas will help the cologne to evaporate more progressively over time.
The Cost
As with all shopping, you need to be wise and stick to a responsible budget. Cologne can be like sports shoes, however: you don't always get what you pay for. This is because people pay lots for specific brand names that aren't always better than their rivals.
The takeaway here is that it's worth buying a mid to high price cologne to impress your date, but only after you've tested it sufficiently.
Size And Shelf Life
If you have expensive tastes but don't have limitless funds, consider getting a small bottle. This way you will be wearing a quality cologne without breaking the bank. Travel scents begin with 0.5oz bottles, and larger products go up to 3.4oz and beyond.
A good cologne is like a quality wine: you need to store it well to keep it at its best for longer. A cool, dry location would be good and it's wise to avoid temperature fluctuations and bright light.
Buying Options
There are basically two: physical shops and the internet. Shops are great because you can try on colognes, walk away, and return later (or not). Online shopping frequently saves people money. This is because there are fewer overheads (e.g. no shops, 'middle men' or sales assistants to pay for) and you can buy direct from the source. It's great choosing scents while relaxing at home, but you would be 'traveling blind' if you didn't test out the perfume in a shop before you buy.
Colognes aren't like clothes shopping- you can't just return what you don't like. Once the bottle has been opened and the seal is broken you will be stuck with your purchase even if you don't like it. When it comes to internet shopping, don't forget to maximize the sales. Black Friday and the New Year Sales are two great opportunities to save money on quality products.
Hopefully, you now feel more confident about what to buy. If you make a good choice that suits your body, there may be more chemistry ahead! Thanks to a quality cologne, you'll be 'armed and dangerous' and ready to create a lasting impression on your date. If this person is 'the one' all your hard work and expense will truly pay off, both for now and the future.