Remember the name Ayrton Little – he is about to do some BIG things!
The 16-year-old has just be granted early admission to Harvard University. The best thing about that is just how ecstatic everyone else is for him. 
The 16-year-old was surrounded by classmates at the private TM Landry College Prep in Opelousas, Louisiana, when he found out he had made Harvard's 2022 class.
Little erupts with excitement at the news. His friends scream with joy and begin chanting 'three-peat', in reference to the school sending a grad to the Ivy League three years running.
Little told the Mail Online: 'I don't know how to describe it, it was the best feeling. It feels amazing.  
'I plan to study applied maths and computer science. If I keep my grades up I will attend in the fall.'
'I'm happy I got into Harvard but I'm even happier because I've made my mother incredibly proud.' 
And it is going to be a great Christmas at the Little house, as his older brother was accepted to Stanford on Friday last week.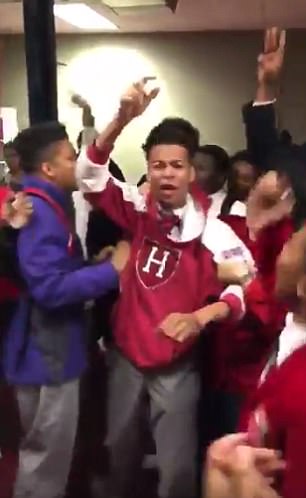 Maureen Little, the boys' mother, said: 'It feels amazing. My oldest son got into Stanford on Friday and we have been waiting for a response from Harvard, and I just can't believe it.
'All the hard work has paid off and it's an incredible feeling. They've put in so much hard work and stay past [school hours] when they need to.'
Little said that he plans to major and math and computer science before working on Wall Street.
The kind hearted boy has the aim of opening a nonprofit to help children from a similar background to him get into Ivy League schools. 
Harvard remains one the most prestigious university in the world. It has produced eight U.S Presidents. 
Last year it admitted 5.6 per cent of the students who applied.