At the beginning of the week the world could not get enough of Keaton Jones.
The little boy stole the hearts of millions around the world as he described the ordeal he was facing at the hands of bullies.
Celebrities such as Justin Bieber, Selena Gomez and LeBron James all offered their support.
But rumors soon emerged that Keaton's family had a racist background and that they were after money. Something which they have denied.
Now it can be revealed that Keaton's estranged father has a history of sharing white supremacy propaganda on Facebook. 
Shawn White has been in prison since May 2015 for a probation violation related to a 2012 aggravated assault conviction.
Before he was incarcerated, he shared a series of Facebook photos wearing an 'SS' sweatshirt and showing off his 'Pure Breed' and 'White Pride' tattoos.
White also has a neck tattoo of 'CWB', which is connected to the Crazy White Boy gang.
It's unclear what type of relationship White has with Keaton, who shares a last name with his mother.  
White last shared a photo of his son in 2015.
On his Facebook, White, who will be released from prison in 2018, also shared a number of white supremacy memes, that say things like 'I love the skin I'm in'.
On another page, he shared memes that said 'HOLY F*** I LOVE BEING WHITE,' 'Keep Calm and be White Pride,' and 'Aryan Pride,' according to TMZ.
Meanwhile, Keaton's mother, Kimberly, broke down in tears while discussing the backlash she has faced.
Photos have emerged showing herself and her son posing with Confederate flags.
She has even deleted her Facebook account – which contained the viral video of her son.
'I mean, you know, yesterday, he was a hero. Yesterday, the world loved us. Today, the world hates us,' said Kimberly Jones while fighting back tears on Access Hollywood on Tuesday.
'And I'm trying to think that I was trying not to get caught up in the positives. We're not going to get caught up in the negatives.'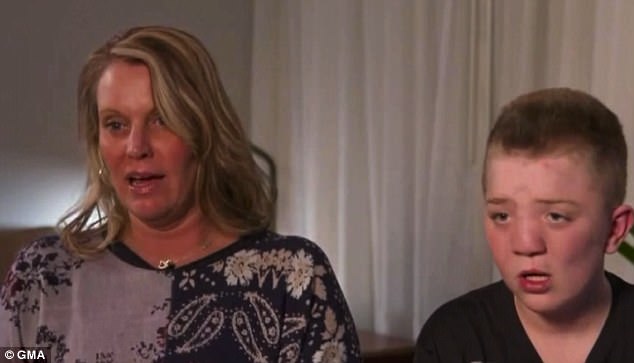 'I feel like anybody who wants to take the time to ask anybody who I am or even troll through some other pictures, I mean I feel like we're not racist. I mean, people that know us, know us.' 
'And I'm trying to think that I was trying not to get caught up in the positives. We're not going to get caught up in the negatives.'
The mother-of-three then defended the Confederate flag pictures she and her daughter posted to their social media accounts by stating: 'It was meant to be ironic and funny and extreme. I am genuinely truly sorry. If I could take it back, I would.'
Kimberly also addressed those who believe she is simply looking to profit of her son's misfortune.
Multiple Go Fund Me accounts have been launched in the past few days for Keaton. 
Kimberly says that only one of those pages has her blessing and the others are fake.
The one which has her blessing has since been frozen with $58,000 in donations already received by the account.
Despite the turnaround against her family, Kimberly has urged parents to talk to their kids about bullying.
'They want to hate me, I mean, whatever, that's fine, but still talk to your kids,' said Kimberly of her detractors.
'Talk to your kids because this is – this is – this is an epidemic.'