Actress Kerry Washington looked radiant as she took to the red carpet of her new film American Son.
Washington was pictured at the NeueHouse in Hollywood, California on Sunday night.
The mom-of-two wore a deep scoop-necked black sleeveless top that plunged down her chest. She rocked the top with a stylish graphic black-and-white striped maxi skirt.
The actress wore soft makeup for the evening, featuring a glossy and shiny red lip. She completed her look with high black heels.
Her hair was plaited into two braids as she let her curls hang loose.
Washington attended the event and posed for photos with her director for the film, Kenny Leon. 
The Scandal star originally a played her role in American Son on Broadway. American Son's theatre run ended in January.
Now Washington and her three co-stars have filmed a production for Netflix.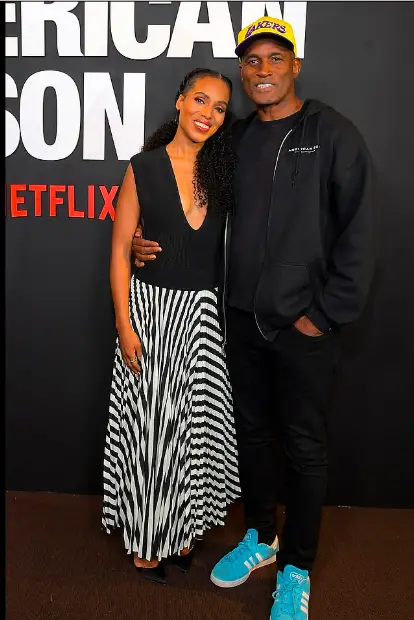 On Thursday, the streaming platform dropped a new trailer for the movie version. The play – praised by former First Lady Michelle Obama – explores the issues of race, bias and policing.
Washington, 42, stars as an African-American mother in South Florida.
She is desperately trying to find her missing son and is begging for help in a South Florida police station. 
Washington plays mom Kendra who is grilled by a young white police officer about her son Jamal.
He demands to know if he has any distinctive tattoos and what his "street name" is. After some time, Jamal's white father comes in. Assuming he is a fellow cop, the officer calls Kendra "ghetto."
Steven Pasquale reprises his stage role as the dad. He demands to know what the officer, played by Jeremy Jordan, and his fellow cops are doing to find his son.
The original cast is rounded out by Eugene Lee who plays a police lieutenant.
The film is directed by Kenny Leon who directed it on Broadway.
Speaking in a featurette released along with the trailer, Washington said that playing the lead role in American Son has been "one of the best things that has ever happened in my life."
"It's something I am really proud of because the material is so important," the actress explained. 
"So often we think of the people who face incidents with the police as those other people who live in those other places. When we spend 90 minutes with these parents, we realize this issue is an issue that belongs to all of us."
Washington added: "You really are getting to walk in somebody else's shoes… This is a woman trying to prevent her life turning into a statistic."
American Son is set to premiere on Netflix on November 1.