Pretty soon comedian Kevin Hart will be a father of three. His pregnant wife Eniko Parrish is due to give birth any day now.
The couple celebrated their lion themed baby shower over the weekend. 
The pair even announced the soon-to-be born son's name – Kenzo. 
The 'Get Hard' star took to his Instagram on Monday to share a family photo featuring his model wife and his two children.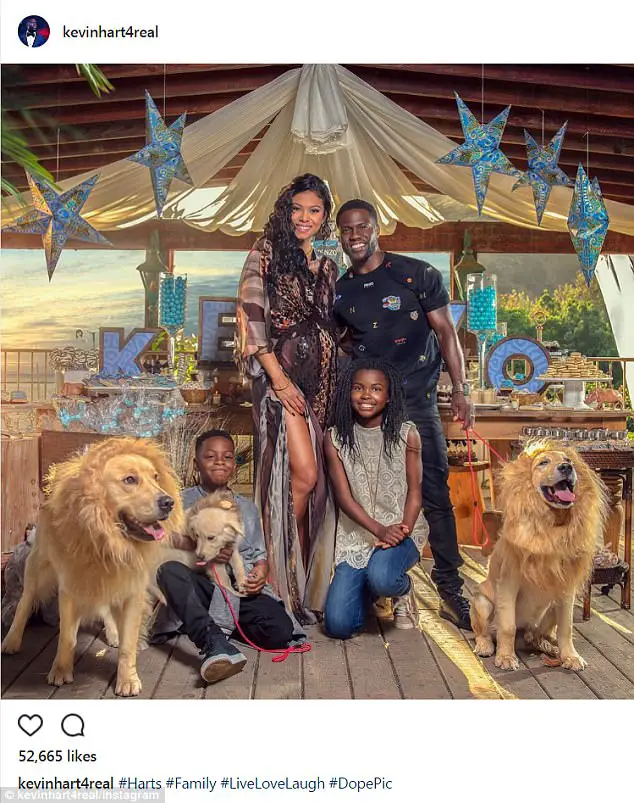 The foursome posed alongside two dogs dressed as lions in front of a sign which announced the name of his son. 
Kevin was seen wearing a patterned T-shirt which he paired with black jeans and stylish black shoes. 
Meanwhile, Eniko wore a colorful robe-like dress that draped over her baby bump.
Kevin was pictured enjoying the day as he carried a plate of food in his hand. He flashed the peace sign to the paparazzi as he walked near a valet stand.
The venue for the shower was the Casamigos Beach Club. TMZ reported last month that the couple were spending $117, 855 on a The Lion King-themed shower.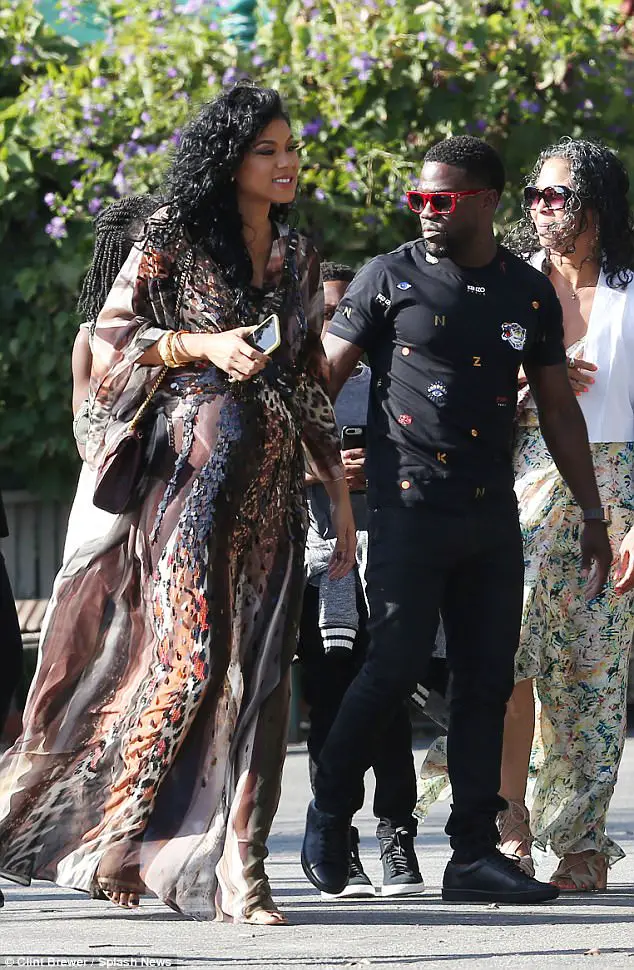 On Snapchat this Sunday, Kevin posted a selfie video in which a dog with golden-colored fur and a false lion's mane on could be seen behind him.
'We couldn't afford a lion,' he explained, 'so you got the dog and just put the thing around the dog. It's still balling. Just on a budget.' 
But despite the lavish party, it has been a difficult few months for the couple, who married last August.
Last month, Kevin uploaded an Instagram video admitting: 'I made a bad error in judgement, and put myself in an environment where only bad things can happen, and they did. 
'And doing that, I know that I'm gonna hurt the people closest to me, who I've talked to and apologized to, being my wife and my kids.'
Later in the video, he insisted that 'I'm not gonna also allow a person to have financial gain off of my mistakes, and in this particular situation, that's what was attempted. I said I'd rather fess up to my mistakes.'
Check out some more pictures below: