All little Karas wanted was for her Daddy to come home.
The three-year-old hadn't seen her father in eight months because of his deployment.
She was so excited after seeing her soldier father Lt. Daniel Ogelsby at his homecoming ceremony –  she did the sweetest thing ever!
Ogelsby was worried his little girl wouldn't remember his face by the time he came home .
But he had nothing to worry about. Karas interrupted his military homecoming ceremony after spotting him standing in the front row.
She RAN across the floor to embrace him!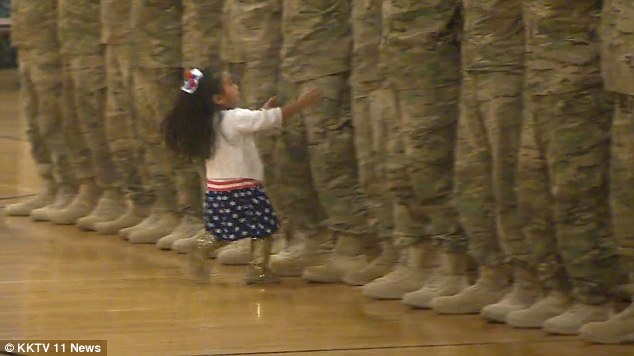 Young Karas couldn't couldn't believe her eyes when she saw her beloved father before her eyes.
As soon as she saw him in full military uniform standing in line with 300 troops she couldn't wait for him to be dismissed.
Karas broke away from her Mom and ran towards her Daddy.
Dressed in a stars and stripes dress, little Karas gave her dad the warmest of hugs before running back to her mum and sister Layla.
Dozens of other military families were at the ceremony and were excitedly waiting to do the same.
Speaking after the ceremony dad Lt Daniel Ogelsby told the Colorado Springs Gazette: "She was excited. She spotted me from a couple rows back and she couldn't contain herself. I wasn't gonna tell her 'no'."
The amazing moment was caught on film by KKTV 11 News and has since gone viral on social media after it was posted on Facebook by the news network.
The soldiers from the 3rd Armored Brigade Combat Team, 4th Infantry Division headed overseas last winter and served in Kuwait and elsewhere training American allies. 
Lt Daniel Oglesby said the looks on the families' faces at the ceremony made the sacrifices that he made worthwhile.
According to the Colorado Springs Gazette almost 300 soldiers returned from the Middle East over the past week.
The troops were in Kuwait and elsewhere training American allies to counter the ISIS threat.