She was a beautiful four-year-old girl, who deserved the world and more.
But tragically it has been confirmed that four-year-old Maleah Davis is dead. 
Authorities in Texas have announced that the human remains found in a garbage bag in Arkansas last week are those of Maleah's. 
The Harris County Institute of Forensic Sciences identified the victim as the toddler who had been missing for a month, according to NBC News.
Quanell X, a civil rights activist who up until recently was a spokesman for Maleah's mother, revealed that Vence confessed to him that he killed the girl.
He admitted he left her body along a road in Hope, Arkansas, which is about 13 miles from Fulton.
Maleah's stepfather, Derion Vence, who had been arrested in connection with the girl's disappearance, told community activist Quanell X he disposed of her body there.
Maleah's remains were flown back to Houston on Friday.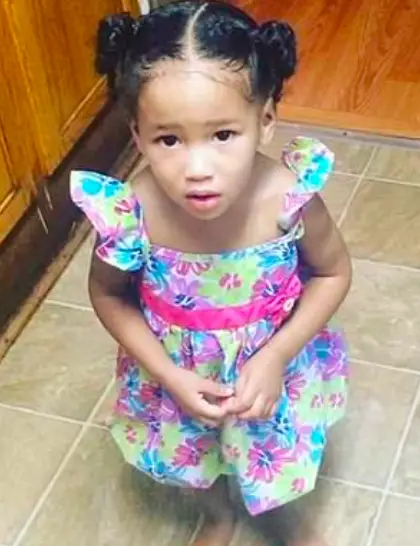 Police arrested Vence and charged him with tampering with evidence, specifically a human corpse. He remains jailed on a $40,000 bond. 
The Harris County District Attorney released a new statement Monday, saying Vence's charge at this time remains unchanged. 
"Prosecutors continue their review and are working with Houston Police," the release stated. "Additional charges would be filed as the evidence supports doing so. We remain focused on finding the truth and delivering justice for Maleah."
Vence first claimed he, Maleah and his two-year-old son were abducted on May 4 by a group of men in a truck. 
He said he and his son were freed the next day, but the kidnappers kept Maleah and his silver Nissan Altima.
Police were quick to point out inconsistencies in his statements.
It emerged that earlier on May 3, Vence would not let Maleah's father see the girl when he came to check on her.
Instead, three days later Vence was captured on surveillance camera emerging from his home. He was carrying a black trash bag believed to be containing Maleah's remains.
Maleah's mother, Brittany Bowens, previously told NBC News that Maleah was being physically abused by Vence. 
Bowens said that she believed Vence harmed her daughter.
Child Protective Services removed Maleah and her brothers from the home Vence and Bowens shared in August.
It came after the Maleah suffered a head wound, but the children were returned in February, according to an agency spokeswoman.