A community in Florida are reeling in shock and disbelief after a man reportedly shot dead his wife and her sister.
44-year-old Julien Techeler Rosemberg killed his wife, Pierrena Rosemberg, 43, and her sister Lourdine Cazeau, 41.
He then turned the gun on himself as his children helplessly watched.
The Delray Beach Police Department say the incident happened early Sunday morning.
Rosemberg committed the heinous act with a semi-automatic handgun inside the home he shared with his wife.
The couple's two boys and girl, along with the sister's daughter ran past the bodies as they fled the house, according to Delray Beach police.
Police said both women had been shot multiple times.
Thankfully, none of the children, who range in age from 5 to 14 years old, were injured.
Delray Beach Fire Rescue responded to the home and pronounced the three adults dead at the scene.
The Department of Children and Families say the children are currently with relatives.
A relative told the Sun Sentinel that Pierrena 'was a strong woman, she would stand up to him, she always said that God would never let him do that to her'.
Police say they had not received any previous calls to the home that involved violence or domestic abuse.
A motive for the shootings is unclear.
But Pierrena had told relatives that her husband had repeatedly threatened to kill her in recent years.
Pearlie McMiller, who lives across the street from the Rosembergs told the Sentinel that she 'never saw them arguing'.
'Their kids would come and play in my sister's yard, they used to come and sit in my sister's yard … never thought something was going on like this,' McMiller said.
According to relatives, Pierrena was studying to become a nurse.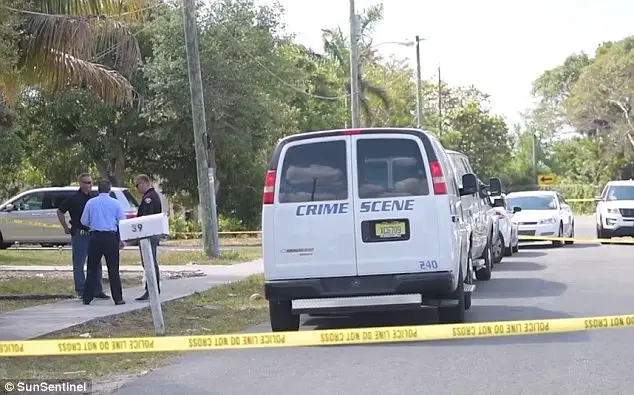 She had lived at the address for at least 10 years, and about five years ago she went to Haiti and brought Julien Rosenberg to the US.
Pierrena also recently brought her sister from Haiti to live with her.
Anyone with information about this ongoing investigation can call Detective Oscar Leon at (561) 243-7845.