Mary J. Blige has had a week she'll never forget.
The 'No More Drama' singer was nominated for a Golden Globe for Best Supporting Actress for her role in Mudbound.
Then on Wednesday, the Queen of Hip Hop Soul received a star on the Hollywood Walk of Fame  – which also happened to be her 47th birthday.
Mary looked sensational in a revealing all-black pantsuit, while stepping up to the podium to give her acceptance speech.
While delivering her speech, the singer broke down, admitting that she was homeless just a year ago. She then revealed that it was her manager Jimmy Iovine who let her stay at his Malibu mansion.
Youtube
"God gave me the strength to keep steppin' and keep my head up regardless of what anybody thought about me, regardless of what anybody said about me," said Mary who is going through a messy divorce with estranged husband Kendu Isaacs.
"I see myself clear and it's not all pretty, but I accept the beautiful mess that I am because it's an imperfect me, still learning, still growing, still Mary though."
The nine-time Grammy winner was introduced on stage by long-time friend, Sean 'Diddy' Combs.
The music mogul shared his excitement before the ceremony by tweeting: 'So proud of @maryjblige!!!'
Mary and Diddy became firm friends after he produced her debut album, 'What's the 411?', in 1992.
The album won her a legion of fans and to date the singer has put out 12 additional albums.
The producer for the Walk of Fame ceremonies, Ana Martinez, told Variety: 'Mary J. Blige is one of the most popular singers of our generation.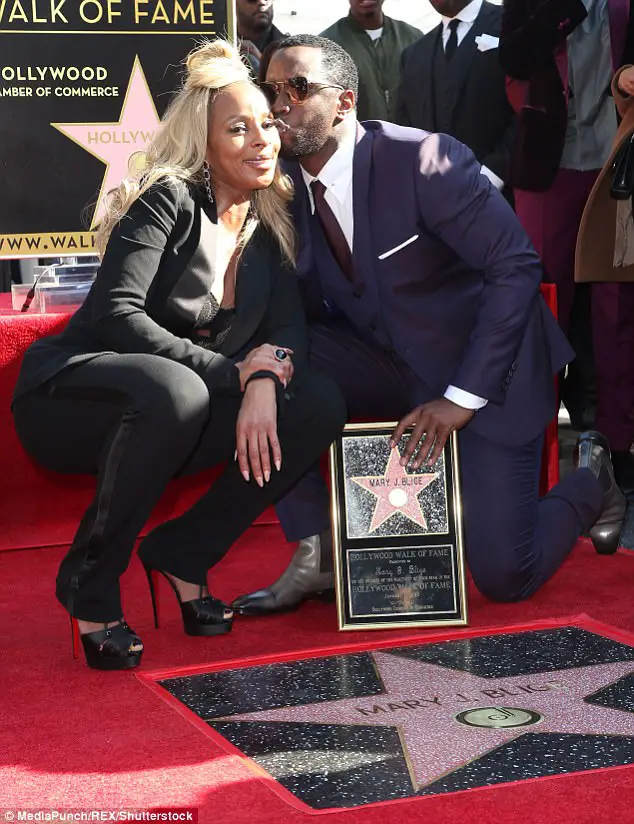 'Fans will be thrilled to see her star on the Boulevard as her career milestones are celebrated on this very famous sidewalk.'
Mary wore her long blonde hair half-up half-down in a mini top-knot bun, while also wearing a glamorous makeup look.
She teamed her classy outfit with a pair of black Christian Louboutin stiletto heels.
The 'Family Affair' artist was also joined by famous friends Tyrese, Jimmy Iovine, and Jimmy Jam. They all came together to congratulate their friend.
After her Walk of Fame ceremony, Mary went out to celebrate her birthday and career milestone at an upscale restaurant in Los Angeles.
The hitmaker shared a sweet snap on her Instagram account, which showed a giant three-tier cake being presented to her while surrounded by her loved ones.
It certainly is a great birthday for the singer who was also nominated for a Critics' Choice Awards.
Mary is winning rave reviews for her role as Florence Jackson in the Netflix film Mudbound.