Everyday I thank God my child is happy and healthy. As a mother it's my job to protect and nurture.
So, it's hard for me to understand how a mom can deliberately cause unnecessary harm to their baby.
But this is exactly what one Texas woman did. 
Kaylene Bowen has been arrested for felony injury to a child after admitting convincing doctors her son was severely ill. 
The 34-year-old let her 8-year-old-son Christopher have numerous unneeded medical operations.
Bowen took her son Christopher on 323 hospital visits since his birth.
Bowen lied to doctors that he had a milk allergy and needed a lung transplant due to the severe side effects.
According to her Facebook page, she also claimed her son had 'terminal cancer'.
It's heartbreaking that little Christopher had 13 major surgeries that he simply did not need.
Many of the operations took place at the Children's Medical Center of Dallas. Which brings into question the medical staff at the hospital.
Christopher's mom even went so far as to start crowdfunding pages so she could fund her son's 'treatments.'
Bowen invented elaborate stories to doctors about her son's condition. 
However, doctors did became suspicious two years ago. They contacted Child Protective Services, according to NBC Dallas Fort-Worth.
Both confirmed Christopher was not actually sick.
But Bowen was adamant that her son was suffering from a serious illness. 
She even managed to convince Christopher's father, Ryan Crawford, and a court judge. 
'She started explaining to the judge that the doctors stated my son would never walk,' Crawford said.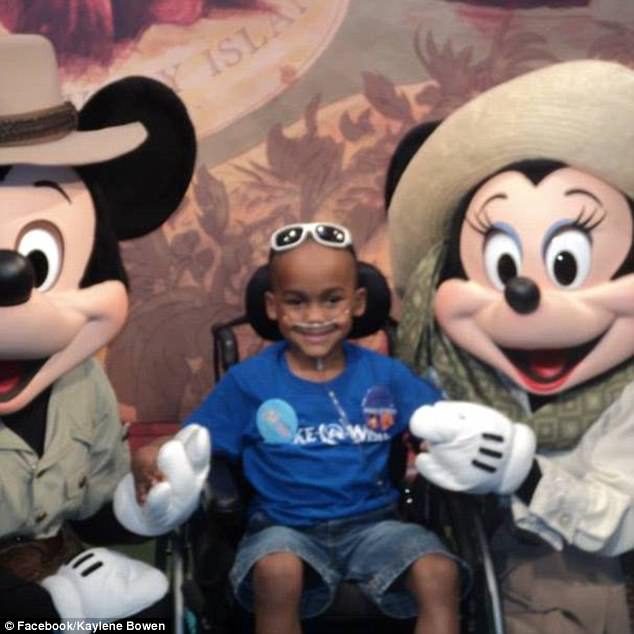 'And then she stated that he had problems continuing to eat and that he's going to need a feeding tube.' 
The now-separated couple started dating in 2009 when Bowen found out she was pregnant.
'I was at a club and she seemed like a nice woman.'
'She was pleasant, pretty. She just caught my eye,' he said of Bowen.
Now, Crawford said the woman he fell in love with may have caused his son serious harm. 
He is convinced she suffers a condition called Munchausen by Proxy, or MSBP.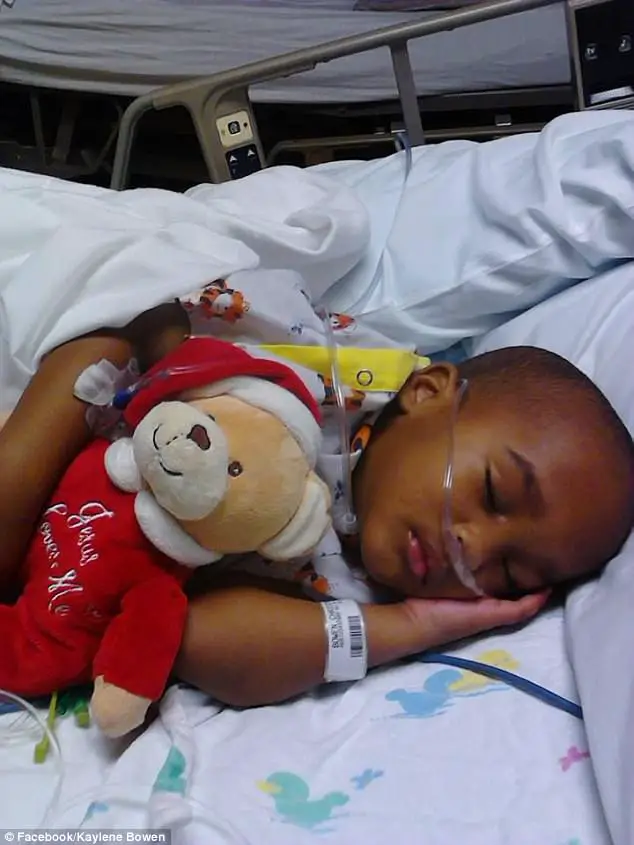 According to WebMD, MSBP is a 'mental health problem in which a caregiver makes up or causes an illness or injury in a person under his or her care' which is often times a child.'
Crawford says Bowen started exhibiting controlling behavior over her son very early on.
'It started eight days after he was born,' he said. 
Watch the news clip below: