Cookie Miller from New Orleans, Louisiana, remembers feeling 'unhealthy, unmotivated, sick and sad.'
At her heaviest she weighed 240 pounds and was diagnosed with pre-diabetes. But thanks to her sheer determination she has now transformed her lifestyle. 
Cookie is now an unrecognizable 39 pounds. But she admits that her appearance was initially more of a motivation for her to lose weight than her health. 
'Not only was I physically heavy, I felt heavy emotionally. I felt everything that I was; unhealthy, unmotivated, sick and sad,' she said. 
Now the beautiful Louisiana woman has ditched her corporate job and works as a personal trainer. 
But her journey from fat to fit has been a difficult one. Cookie had been an athlete since middle school. She continued to excel throughout high school, but when she went to college, athletics stopped.
At that point, she says, things got 'out of control'.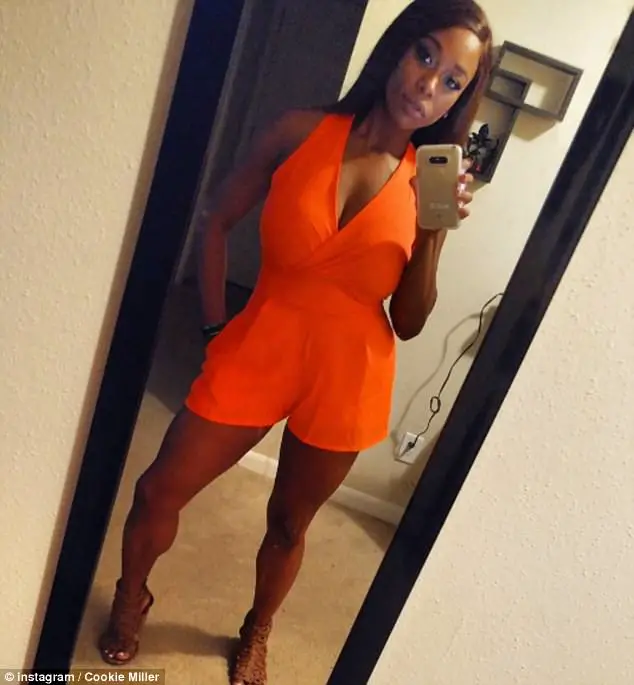 'So many unhealthy foods are embedded in the culture of where I am from, I believe that's a factor. It's so normal to have a very heavy dinner every day of the week,' Cookie said.
'What some may view as weekend meals or special occasion food was something we ate daily.'
Cookie was then diagnosed with Acanthosis Nigricans. This is when thickened and darkened patches of skin appear on the neck, in the armpits or groin. It's often a sign of obesity or diabetes.
'I was diagnosed with pre-diabetes and Acanthosis Nigricans. Can you believe that wasn't enough to light the fire?' Cookie added.
'It was not until I was so unhappy with how I looked that something had to change. Some people will not say this, but, truthfully, aesthetics had more to do with it than health initially.'
To make a change Cookie had to face her addiction to food.
'Food addiction is very real. That was and is still the hardest part. I really hope to not have to struggle with it at some point, but it is a daily struggle with some days being better than others,' she said.
To start with Cookie started training for a 5K, got a gym membership and took classes. She also began tracking her food intake. 
'I am so aware of portion size when it comes to food. I am still such a foodie and love to "see" a large serving so I still have large servings of food, but healthier options. It's all a mind trick,' she said. 
'In terms of exercise, I really stopped jumping all over the place. Consistency is such a major key and these days I literally repeat the same workouts over and over and over and it just works.'
Cookie now works out five to six days a week. She says that old friends who see her now are shocked to see how much weight she has lost.
'People who knew me prior to weight loss are always so shocked. They usually tell me they're proud of me and that I look great, but honesty, most people don't recognize me at all,' she added.
'I've gone to a few stores where people I went to high school with work and to this day, they have no idea who I am.'
Cookie says her new lifestyle has left her feeling empowered.
'I am so confident in who I am now. I know that I am strong because of the challenges I overcame to get to this point. It's such a confidence booster,' she said.
'There will never be a perfect time where all the stars align. Something will always be in the way, so do yourself a favor and get going now.'