Thousands prayed and hoped for the safe return of Trevyan Rowe.
They came out in force to help look for the 14-year-old autistic boy.
But sadly a body, which matches Trevyan Rowe's description, was recovered from the Genesee River late Sunday.
The teen was last seen walking off a school bus Thursday morning. However, he did not enter James PB Duffy School Number 12 in Rochester for classes that day.
Family, police, community officials and members began a frantic search afterward.
'I'm just asking… bring my baby back home,' Trevyan's sobbing mother, Carrie Huston, said in a press conference late last week.
Locals reported seeing a boy who matched Trevyan's description at the Frederick Douglass–Susan B. Anthony Memorial Bridge, where the body was found, 13 ABC reported.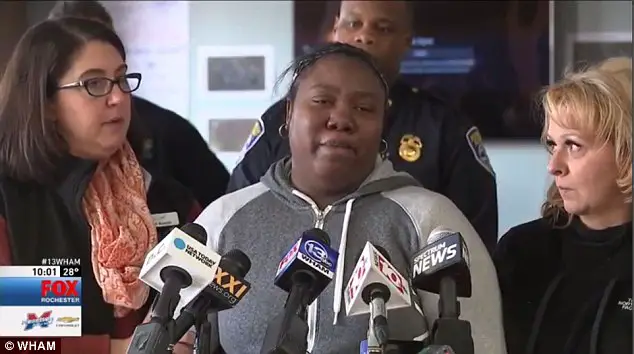 Rochester Mayor Lovely Warren said thousands of people provided information and help in the search for the teen.
'I am very very sad by this news, which is every parent's worst fear… my heart and my prayers go out to Trevyan's family and friends,' Warren said in a press conference.
'Trevyan is a very special little boy who was loved. He captured the hearts of our entire community,' the mayor went on to say.
'I want to thank the thousands of Rochester citizens who took to the streets in the snow and cold to look for Trevyan.'
Meanwhile Trevyan's uncle, Kent Handy, is placing the blame on the school district for failing to report the teen missing from school early Thursday.
'They definitely dropped the ball… If they would have just called I don't think we would be having this conversation right now,' Handy said, according to 13 ABC. 
'We followed up on every tip and every lead that we received,' Rochester Police Chief Michael Ciminelli added in the conference.
'In a case like this, with a missing person, we are trying to find the child as quickly as possible.'
Police say there are no signs of foul play in the case.