Wherever you look there are strong women holding down jobs, looking after their kids and basically being a boss!
Nayzia Thomas is no different. 
After learning she was pregnant last summer, people asked the college sophomore if she'd take it easy during fall semester.
But the 19-year-old refused. She was determined to attend school and work full-time, just like she had the previous semester.
Her tough work ethic saw Nayzia finishing her final paper whilst in labor. As she worked, her mom snapped a picture, which has now gone viral.
"I was at 2 centimeters when I was finishing the paper," said Thomas of Kansas City, Missouri, who is studying psychology and neuroscience at Johnson County Community College.
"The contractions were painful, but I have a high pain tolerance. I thought 'Before this gets unbearable, let's get this done.'"
For about two of her eight hours of labor, Nayzia diligently wrote her paper on dissociative identity disorder.
Then when the contractions got really bad she began proofreading her work.
"Luckily, I was done with my paper," she said. "The contractions are all bad. They get worse as you go along."
On Dec. 12, she delivered her beautiful son Anthony, nicknamed AJ, who was 6 pounds 15 ounces and healthy.
But as AJ was lying on her chest soon after birth, Nayzia felt something was wrong.
"I got really lightheaded and really woozy," she said. "I wasn't feeling right, and I blacked out."
After delivering the placenta, she continued bleeding.
Thankfully, doctors stopped the bleeding and gave her fluids. But even after the new mom was discharged from the hospital, she struggled to breathe and experienced pain in her chest.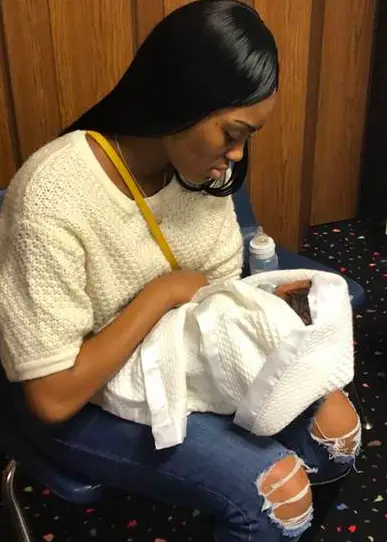 "My chest was hurting really bad and when I moved, I (couldn't) really breathe," she said.
Her mom, Aisha Kelley, insisted the nurses measure her daughter's vital signs both while she was standing and sitting.
Doctors re-admitted her to the hospital and gave her a blood transfusion. Ir turned out her hemoglobin and oxygen levels were extremely low. The transfusion seemed to work.
"I felt so much better," she said. "I feel like a completely different person."
After returning home, Thomas learned she received an A on the paper, and finished the semester with a 3.5 GPA.
Nayzia's original tweet has been shared more than 28,000 times and liked more than 130,000 times. She is overwhelmed to learn that her story reached so many people.
"I was just sharing the moment," she said. "I live my life every day, just doing what I am supposed to be doing."
"You can do it. A lot of things in life (are) mind (over) matter," Thomas said. "You have to be strong and you have to fight through it."