Many of us remember doing science experiments at school.
It's aim was to let us see chemistry in action, instead of just reading about it in out text books.
But for Alonzo Yanes, a simple chemistry experiment at The Beacon School in Manhattan changed his life forever. 
Alonzo Yanes, now 21, was severely burned in 2014 while taking part in an experiment at the prestigious establishment.
He is now suing the school for $27million, according to The New York Post.
The principal of The Beacon School wept in court on Monday as she recalled the traumatic incident.
Yanes was just 17 when he was left with the trauma of burns on 30 percent of his body. 
He claims his burns have left him with such low confidence that he has remained a virgin. 
On Monday, principal Ruth Lacey was called to the stand to testify.  
She tearfully told the courtroom that she has "made a mistake" after a list of safety errors emerged in the handling of the experiment.
Yanes had been carrying out the "Rainbow Experiment" where mineral salts are burned to produce multicolored flames, the court heard.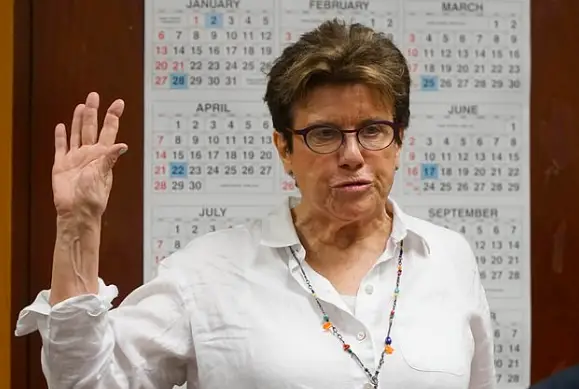 Last week, Yanes revealed what it was like living with his injuries.
"The way that I look, it gets in the way too much. I don't think the scars are very attractive," the 21-year-old told the courtroom. 
He says it still hurts that people still "gawk" at him five years since the accident. 
"I will never get used to that. It still hurts tremendously," he confessed.  
In order to get through the day, the former student admits that often takes off his glasses so that he can't see people staring at him.  
"Not a single day passes by when I don't think about my injuries or what my life would have been if I wasn't involved in that injury," Yanes sadly told the court. 
Meanwhile, an expert has testified in court that chemistry teacher Anna Poole ignored safety protocols.  
Samuella Sigmann, a professor at Appalachian State University, said that the "Rainbow Experiment" should never have been conducted. 
"The risk was very high," Sigmann told the court, as reported by the New York Post.
Sigmann said that the classroom lacked a fire blanket, shower or eyewash.
The professor also pointed out that Poole was wearing goggles, while her students were not.
The strain of Alonzo Yanes injuries have also affected those closest to him.
Yanes mom, Yvonne, told jurors of how she heartbreakingly had to tell her young daughter that her brother's appearance had changed. 
A tearful Yvonne, 51, said she told Yanes younger sister Alana, who was seven at the time:
"He will probably look very scary to you. He will probably look like a monster, like Frankenstein."