She is the much missed Tejano music queen whose music still resonates today.
So, it was no surprise a record 4,500 fans gathered on Vine Street in Hollywood on Friday, to pay tribute to the late Selena Quintanilla.
The Grammy winner was honored with the 2,622nd star on the Hollywood Walk of Fame.
Selena, who was tragically murdered in 1995, broke barriers for women in Latin music.
For many she was the pioneer for a new generation of contemporary artists of Latin descent.
Her music would eventually go on to enjoy huge popularity with mainstream American audiences.
Selena was born in Texas in 1971 – the youngest in her family. 
But she was senselessly shot and killed aged 23 by her friend and manager of her Selena Etc. boutiques. 
As of 2015, Selena had sold more than 65 million units worldwide, making her the best-selling female artist in Latin music history.
While her posthumous collaboration with MAC cosmetics has become the best-selling celebrity collection in cosmetics history.
According to a Hollywood Chamber of Commerce spokeswoman, Selena's crowd was the largest-ever for a Walk of Fame ceremony.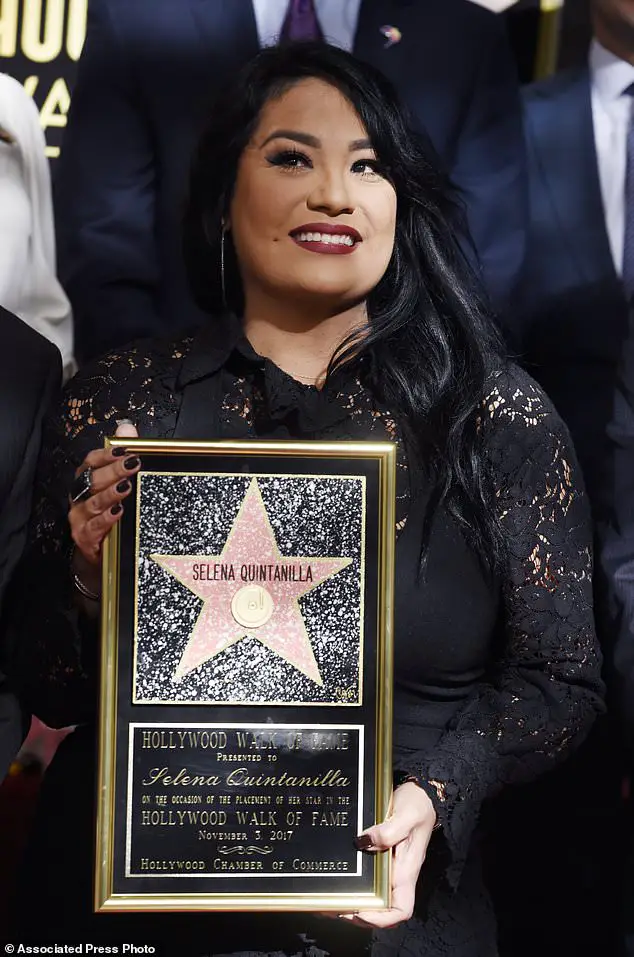 "This is history in the making," said Los Angeles Mayor Eric Garcetti at the podium, repeating himself in Spanish.
"Selena was an angel," he continued.
And we thank the family for all they gave and have given this country, and it's a message we need now more than ever. Because we aren't strangers to this land, this is our home."
Numerous celebrity guests attended the ceremony included actor Edward James Olmos, who appeared in 1997 biopic Selena starring Jennifer Lopez.
Desperate Housewives actress Eva Longoria was also among the stars.
Musician Chris Perez, who was married to Selena, bent down to lay a small bouquet of white roses on his late wife's Walk of Fame star.
However there was slight controversy as fans wondered why Selena's star did not include her married name of Perez.
Also at one point Selena's sister Suzette moved the flowers that Perez put down on her star. Many thought this was a shady jab at him.
But Suzette took to Instagram to explain that she briefly moved the flowers so she could take a picture of the star showing her sister's full name.
Selena's father at first did not accept Chris and the pair eloped.
Earlier this year Abraham Quintanilla, Jr., filed a lawsuit against Perez after he tried to adapt a for television movie called To Selena With Love.
The TV show would have been based on a memoir of his life with the music icon.
At the ceremony actress Eva Longoria broke down in tears as she paid tribute to the murdered singer. 
"Selena's voice was a key that unlocked the hearts and minds of millions," Longoria said. "She was a small town girl with a big heart and a smile that radiated and captivated people everywhere.
That small town was my hometown of Corpus Christi, Texas. And she was the face I finally saw that looked like mine."
Selena was the youngest child of a mother of Cherokee ancestry and a father who is Mexican-American.
She debuted on the music scene in 1980 as a member of the band Selena y Los Dinos.
Her older brother A.B. Quintanilla produced her music and her elder sister Suzette Quintanilla played the drums.
Selena's sister Suzette was the last to speak, wrapping with Selena's own words: "'The goal isn't to live forever, but to create something that will.'"