Three-year-old Ahlora Ashanti Sample Lindiment has been found alive and well.
It comes after the toddler was reported missing from a playground on Wednesday night.
North Carolina authorities have identified the alleged abductor as 22-year-old N'denezsia Monique Lancaster of Greensboro. 
She is suspected of abducting the three-year-old girl who was found wondering alone at a church. 
Police shared what appears to be a previous mugshot of the suspect. Authorities in Greensboro are currently trying to locate her.  
Police have confirmed that Lancaster will be charged with first degree kidnapping once she is found. Meanwhile Ahlora's stepmom – Shatana Wallace – shared a video of the little girl in the hospital. 
Wallace thanked law enforcement and the community for their help in locating Ahlora.
"Mommy I want to go home," Ahlora said as her step-mom talked. "I'm just so glad my baby was found," Wallace added. 
Another video posted by Ahlora's older sister – Toni Blackburn – provided more insight to the strange abduction. 
She condemned people for suggesting that Ahlora's birth mom or any other family member had anything to do with the girl's disappearance. 
In an interview with ABC 11, Ahlora's devastated mother implored the public to come forward with information about her daughter's disappearance. 
"Please help," Erica Lindiment said. "I mean even if you don't want to be known, or you don't want to have your name or anything to do with it, you can always leave an anonymous tip to help us out, to help us find her and make sure she gets home safe."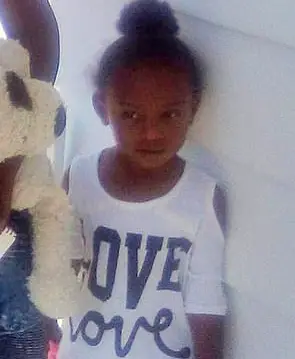 The department shared in a press conference late Thursday night that Ahlora Ashanti Sample Lindement was found at the Words of Faith Christian Center at 719 Dillard Street at 8.18pm. 
Ahlora was transported to a local hospital and is said to be in "relatively good shape."
"She seems to be doing well as a three year old," Scott added. 
The department also provided additional stills of the woman they've identified as the suspect in the abduction.