Tennis legend Serena Williams was forced to retire the women's final of the Rogers Cup in Toronto, Canada, yesterday. 
Williams broke down in tears and apologized after back spasms forced her to forfeit the match. 
She was comforted by her 19-year-old Canadian opponent – Bianca Andreescu – who became the first Canadian to win the Rogers Cup in 50 years.
Andreescu was up 3-1 in the first set when Williams called for a medical timeout.
Less than a minute later, the chair umpire announced that the 23-time Grand Slam champion was retiring from the match.
The tournament's final lasted only 16 minutes before Williams withdrew.
After her fate was revealed, the former world No. 1 started to cry on her bench. 
As soon as Andreescu saw the mom-of-one crying she went over to comfort her.
Andreescu, who celebrates her second WTA Premier title of the season, hugged Williams before telling her how much she admires her.
"Serena, you made me cry," Andreescu told her.
"I know how it is to pull out of tournaments, it's not easy. This wasn't the way I expected to win. You are truly a champion."
"I've watched you win so many times, you are truly a champion on and off the court. I'm speechless right now. This has been a dream come true."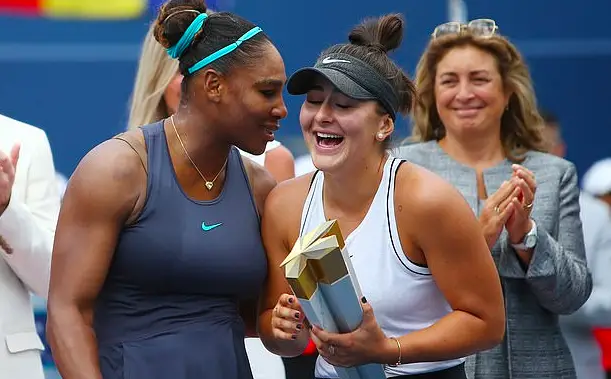 "I started tearing up because she was tearing up," Andreescu said. "It's because I know how she feels. Injuries really, really suck."
The young player, who had been nervous to face the legendary champion on the court, ended up giving Williams a pep talk.
"I just said, 'Girl, you are … a beast. You're going to bounce back. You've dealt with so much in your career. This is just a minor setback for a major comeback," Andreescu said.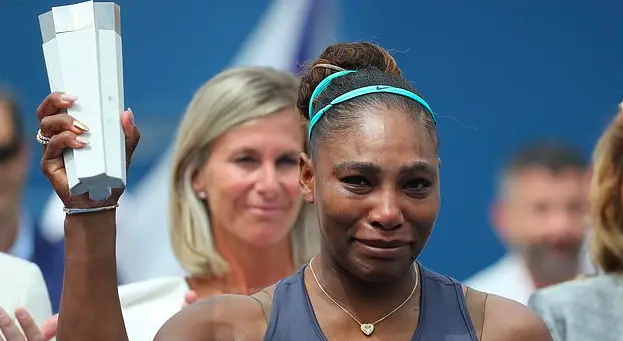 Williams told reporters she was incredibly grateful for Andreescu's thoughtful gesture.
"I was really sad and she made me feel a lot better, so that was really nice."
"She's just a fabulous personality," Williams said of Andreescu in a video posted by WTA.
"She's only 19," she added. "She definitely doesn't seem like a 19-year-old in her words, on court, and her game, her attitude, her actions."
During the award ceremony, 37-year-old Williams thanked the Toronto fans for their warm applause. 
"I'm not a crier, but, thank you guys," an emotional Williams said after accepting the second-place check. 
"I'm sorry I couldn't do it today. I tried but I just couldn't do it."