All eight-year-old Daeyrs wanted was a bed to call his own.
He and his mother Dionna have spent years living in homeless shelters.
Dionna lost her job as a trainee nurse and sadly they lost their home.
But in a truly heartwarming video, the mother and son were granted Michigan state housing.
Not so long ago all they they had was a blowup mattress and a couple of chairs. Daeyrs was use to sleeping with blankets on the floor.
A social worker handling the family's case reached out to Humble Design.
The company fully furnished their new home and surprised Daeyrs.
The proud young boy can be seen in the video beaming and calling himself 'the man of the house.'
When Daeyrs saw his new room he bursts into tears in his mother's arms.
His new room is complete with a bed, chairs, cushions, toys.
And his prized possession – an art set. The emotional video, was shot on December 20.
It shows the pair first stepping into their now furnished house. Little Daeyrs little eyes showed sheer gratitude for the basics that people often take for granted.
The founder of the charitable organization, Humble Design's Treger Strasberg, who oversaw Daeyrs' dream renovation, said: 'They moved into this house but didn't have any furniture and were sleeping on the floor.'
'We were referred to Daeyrs and his mother by a social worker, and our first order of business was to ask them exactly what they would like in their house to make it feel like a home.'
'Seeing how much having a bed and his own room meant to Daeyrs, it really made me realise what's important in life and grateful for everything I have.'
'He was so excited to have his own room.'
'But also so overwhelmed by what having this really means for him after all he's been through – to have a place to stay and just be a normal kid with no worries.'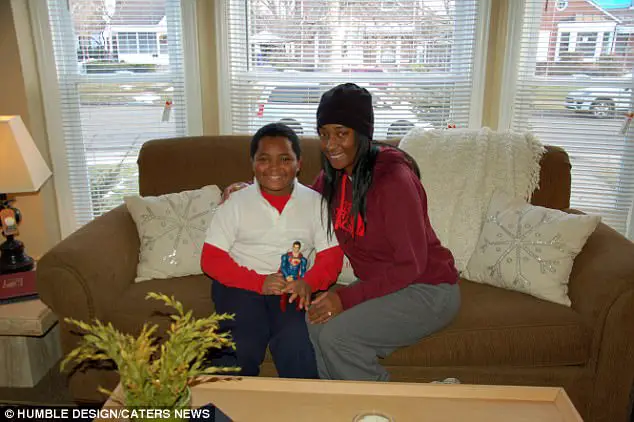 'We furnished and decorated the house from top to bottom with donated furniture and goods from our warehouse – from curtains on the window to kitchen appliances, we cover every detail.'
'Now Daeyrs and Dionna have a place they can truly call home and everything can only go up from here.'
'Seeing the impact that a stable home has on a family has been life-changing. With every home that we do, we learn a new story of hope and triumph.'
'In 2017, we helped 169 families transition out of homeless and abuse shelters.'
'We just want to wrap our arms around ever family that needs us, and our goal is to ensure no child has to sleep on their floor.'