He was born into the slums of India, but he one dream – to dance with the New York City Ballet.
Now against all odds – and at just 15-year-old – Amiruddin Shah has achieved what many in his position could never do. 
He has begun four years of training at the prestigious American Ballet Theatre's Jacqueline Kennedy Onassis School.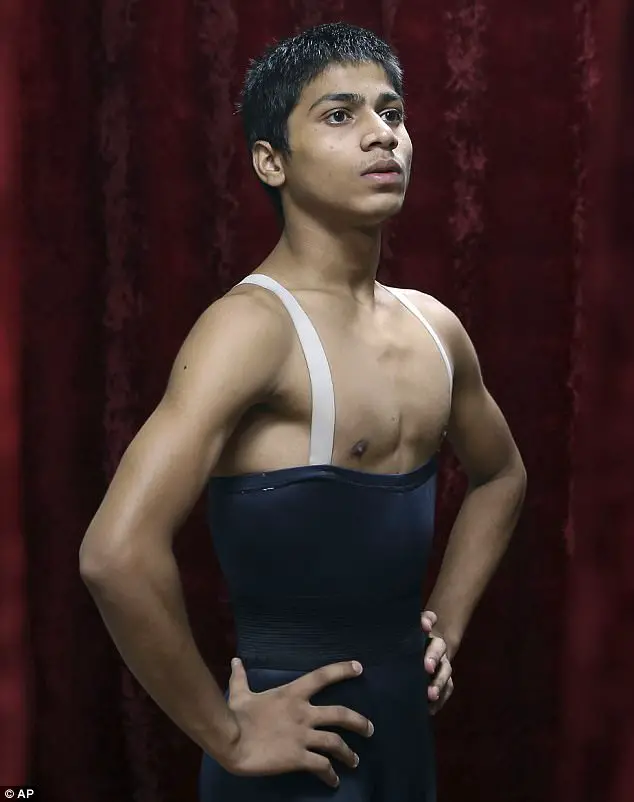 From the tender age of six Amiruddin loved to move with music. He danced whenever he got the chance.
Soon his local community took notice and he was sometimes invited to weddings to perform.
'I never thought I would become a ballet dancer,' Amiruddin said. 
'India is not on the ballet map, and I want to take India to an even higher level.'
He got his big break three years ago when Israeli-American instructor Yehuda Maor was invited by the Danceworx Academy to teach in India.
This was part of the academy's initiative to help underprivileged kids. 
As Maor was teaching he happened to catch Amiruddin doing cartwheels and backflips. 
He was so impressed with how Amiruddin moved he asked to see the bottom of his feet.
The dance teacher discovered Amiruddin had perfect arches for ballet and urged him to train under him.
Within two and a half years, Amiruddin had nailed his pointe, pirouette and arabesque, 'which is unheard of,' Maor said.
'I knew I had found a diamond in a pile of rocks,' said the teacher.
But as much as he taught the young boy he knew that he 'needed to be challenged' by more teachers. 
Maor was so sure of Amiruddin 's talent he bought him his very own set of ballet shoes and dance clothes. 
Amiruddin ended up winning a scholarship in June to New York's Joffrey Ballet School. But sadly could not secure a U.S. visa in time.
Amiruddin was then offered a scholarship at the Oregon Ballet Theater starting in December.
Amiruddin attended for three months.
Now, Amiruddin is trying to raise funds for four years of travel and tuition with the American Ballet Theatre in New York.
He has managed to raise funds for his first year, beginning in August. The school has set up a Gofundme page to accept donations for the remaining three years training.
Amiruddin said he is eager to stay in a dormitory and 'be in a proper ballet school.'

'I am so excited, but slightly scared, too,' said Shah, who speaks basic English but used Hindi in an interview with The Associated Press.
'How would I interact with people? New York is very crowded.'
But he has ambitions of one day becoming a principal dancer in the New York Ballet.
Amiruddin added: 'I want to teach other children who cannot afford to pay for dance.'