3D printed houses and cabins are created using giant 3D printers that companies operating in the 3D printing market have been able to make after understanding the needs of the construction industry. They are not typical hobbyist or industrial 3D printers. These 3D printers have the capacity to extrude materials such as concrete, plastic and/or other building materials. Such extruded materials pass through their nozzles for building up the layers of houses and cabins. As simple as it sounds, so difficult it is in action. The printers should be capable enough to move in various planes and should be operable on different terrains.
3D printing houses and cabins are still in the development stage and not as established as the 3D printing dental or aerospace market. The projects that are currently under development are priced somewhere around $10,000 for small structures. With a reduction in the price of houses and cabins that are 3D printed versus the ones that are manufactured using traditional techniques, there is also a reduction in time. 3D printing a house or a cabin can take only twenty four hours, according to a report, Pick3DPrinter has a list of the Fastest 3D Printers that could be considered for the job. Without further ado, we present to you the most beautiful 3D printed houses and cabins, to date.
Small in size, but has huge potential

Source: dezeen
Built by Crane WASP printer by an Italian 3D printing company called WASP, this tiny house is called Gaia. Its outer shell is 3D printed, whereas the internal timber beams support timber roof. Currently, Gaia is located in Massa Lombardo, a town in the Italian region of Emilia-Romagna since October 2018. Extreme care has been taken about which materials to use to 3D print Gaia. Mud from the surrounding area and waste byproducts from rice production, such as straw and husks were collected. This means the house is biodegradable. They are 322 square feet in area.
3D printed house cum art piece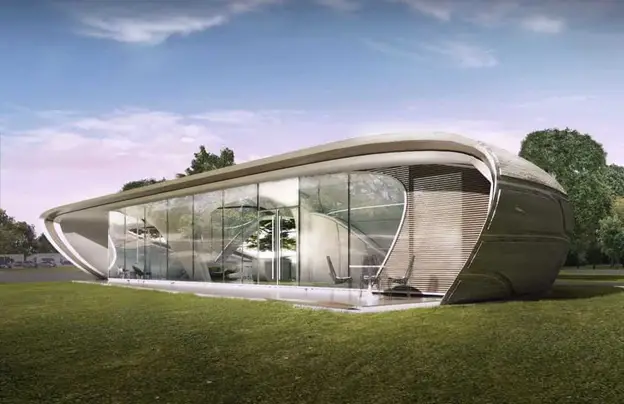 Source: archdaily
Proposed by the team of architects in Chicago, in the year 2016, the design of this house was made from printed plastic, carbon-fiber panels, and glazed walls. This team became immensely popular after winning first prize in the Freedom Home Design Challenge. The 3D design of this house is the boldest one you would encounter on our list. It aims to make the most of the technology called Curve Appeal. It was scheduled to be built in the year 2020 at Chattanooga, Tennessee. This design is also the most appealing one amongst any other that you would file on our list.
Hemp-made 3D printed houses

Source: truththeory
Designed by a company named Mirreco, these houses are unique as they are meant to harness the explosive potential of industrial hemps. The company's core is biotech and they plan to 3D print these houses in Australia. Mirreco lays its belief on 3D printing the floors, walls, as well as the roofs of buildings using carbon-neutral hempcrete panels. Recently the company revealed how they are working in collaboration with an architectural company Arcforms, based in Perth. The windows of these houses will incorporate cutting-edge technology allowing the light to pass through glass where it is converted into electricity.
Sustainable and energy-efficient

Source: bt
Running entirely on solar power and capable of generating water from surrounding air's moisture with optional add-on, PassivDom house was created using a large scale 3D printer at a factory in Nevada. Even the shower in the bathroom of this house can clean and recycle water. The theme of this 3D printed house was such that it uses the least amount of resources. Initially the company involved in creation of this house thought of an off-grid house, but then with development in ideas, this is what they could come up with.
Alien looking 3D printed houses

Source: curbed
A project of Eindhoven University of Technology and Houben/Van Mierlo Architects, the eccentricity of these 3D printed houses would make you think that people living inside it have arrived from some other planet. Within some time, a few units of these houses would be available at a reasonable price. Set to construct five of these buildings over the next five years, the Dutch university will ensure they are made completely of concrete material. If the personnel from university are to be believed, these houses will comply with modern requirements and will be purchased.

Source: dezeen
These tiny cabins are set to be built in Amsterdam by DUS Architects. The total area in which they'd be present is 26.2 square feet. They will have an internal bathtub, despite being this cozy. The 3D printing material that will go into making these cabins will be bio-plastic. The aim of creating these cabins is to experiment with them near disaster areas and see whether they can be a durable housing solution for people living nearby. Even if this house gets destroyed, its material can be reused. It's one of those sustainable dwelling solutions in urban environments!
Cute 3D printed houses

Source: iconbuild
Created using giant 3D printers, these houses are present in Mexico. Building these houses to create a neighborhood took only twenty four hours of the time. This 498 square feet house contains a roof, windows, and interiors. It's built by a non-profit organization called New Story. Teaming up with ICON, these are created using a 3D printer called Vulcan II. They can be a perfect solution for people that are currently homeless. It can be extremely useful in rural areas as well.
The Conclusion
Most of the 3D printed houses are manufactured using concrete and hence should last a fair amount of time. Given proper maintenance and continuous habitation, there is no chance that these houses should not last the amount of time equivalent to traditional concrete construction. Many of them have timber elements which may decay over the time, provided if not maintained properly. As you may have also noticed, there are 3D printed houses made from degradable materials, but they are used for temporary accommodation. But as said before, the use of 3D printing technology in the construction industry is still developing! Hopefully, we'll get even more of it in the coming years.