While most people remain loyal to a classy round solitaire, recent years have revealed rising interest in offbeat accessories. And of course, the first trendsetters who started this wave of popularity were famous people. Scroll on to see the most extravagant celebrity engagement rings that captured press attention.
Ariana Grande
First, on the list, we've got Ariana Grande, a renowned singer whose songs can not leave the young generation indifferent. In 2020 she announced her engagement to real estate agent Dalton Gomez and shared a snap of her betrothal token on Instagram. We can spot an alluring oval diamond combined with a white pearl on her fourth finger.
We'd say that this particular jewel deserves a place at the top. Pearls are the least frequently purchased stones for the engagement bands because of their weariness. They require high maintenance and can't be put on during clean-up or swimming sessions. However, Ariane decided to take a risk, and the design played out really well for her: daring and enticing – just like singer's compositions. Way to personalize the ring!
Emma Stone
Emma Stone is next on the list, flaunting yet another spectacular pearl band. An 8mm Akoya gem is surrounded by tiny lucent diamonds in 'beige gold'. The ensemble is vintage-inspired and depicts the wearer's exquisite feminine taste.
Scarlett Johansson
Scarlett Johansson displays Givenchy's masterpiece with 11-carat brownish diamond encrusted in a black band. A true rarity! Colored diamonds are tough to find, and their value is bound to increase in the forthcoming years. Not only is the brilliant flamboyant but also colossal. Impressive size and precise faceting engender a one-of-a-kind look. Meanwhile,  the duo of black and light brown exudes a confident vibe.
An excellent method to reflect Scarlett's personality. We wish her to hold on to her hubby, Colin Jost because such a romantic present is not something every man can come up with.
Emily Ratajkowski
Emily Ratajkowski's engagement ring from her fiancé Sebastian Bear-Mcclard features a two-tiered band with large side-by-side square and pear-cut diamonds. This Moi et Toi style was the leading product of 2021. However, Emily didn't copy the existing fashionable items; she made hers exclusive by adding a second shank and varying its width. Thick golden ring and bulky brilliants shine with audacity and glamour.
Lady Gaga
The peculiar heart-shaped diamond demands the highest craftsmanship and is often overlooked by brides. By many, it is considered trite and too plain. But Gaga proved them wrong and rocked the stone. By opting for a bigger size, she transformed simplicity into a fabulous acquisition. In addition, she had her token engraved with the initials.
Cameron Diaz
Cameron Diaz decided to follow the tradition and wore her engagement ring together with a wedding and eternity one. The engagement band shows off a top-notch chunky piece of gold adorned with little luminous diamonds resembling sprinkled stars on a beach.
Halle Berry
Although Halle Berry's and Olivier Martinez's wedlock was short-lived, the star didn't come out of it empty-handed. The ex-husband proposed to her with a unique emerald golden ring. While their romance didn't last, the charm of cubic design and colored gem will remain with Halle forever.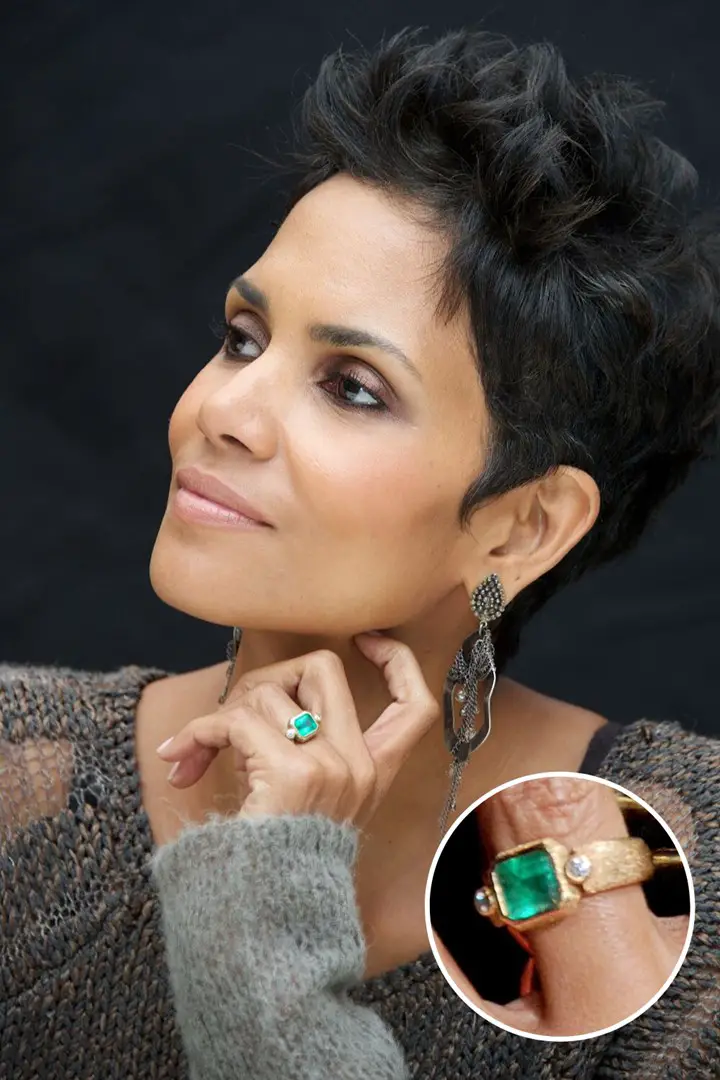 Ashlee Simpson
Ashlee Simpson announced her engagement in a tweet under the caption: "My baby love and I are ENGAGED!!! Hallelujah Hawaii!!!!!". She later added a happy couple photo where the platinum 5-carat marquise diamond ring rests on her hand. The art deco band reportedly put her hubby back 70,000$.
Fergie
Fergie showcases a thick diamond ring from Josh Duhamel. Although the center brilliant is more traditional – the band is striking and has a sun pattern engraving. She matches it harmoniously with her sleek and elegant black dresses.
In our opinion, these are the most stunning accessories presented in recent years. We hope you had fun viewing them. Perhaps, something even caught your eye, and now you want to purchase a similar piece for your honey? If so, go to an online jewelry store (like GS Diamonds) and order a "custom-band" service that allows you to devise your ring and pick a diamond separately from a setting. We recommend checking out wholesale diamonds in Brisbane to get the multi-faceted quality for an attractive price.