When you put on your favorite pair of Yeezy's or try and decide between your 50 pairs of heels – think of this beautiful woman.
A Ugandan lady has gone viral after dancing with joy after being gifted with a pair of shoes.
The unidentified woman erupted in pure jubilation after passerby Laura Grier spotted her bare feet and decided to help her. 
It was a touching moment for all, after Ms Grier's driver gets out of the car and helps the woman put on the shoes.
Friends and family are quick to applaud the grateful woman, who dances in pure delight. 
"When I saw the woman on the side of the road barefoot I urged my driver to stop, the woman was barefoot and had never owned shoes before," Ms Grier said. "We stopped the car to pull over and give them to her, her reaction to wearing the shoes was priceless!," she told Newsflare. 
Grier had brought the old tennis shoes with her to give away and said the moment "brought tears to my eyes."
Once the Ugandan woman sees what Grier is doing, she starts dancing and celebrating.
.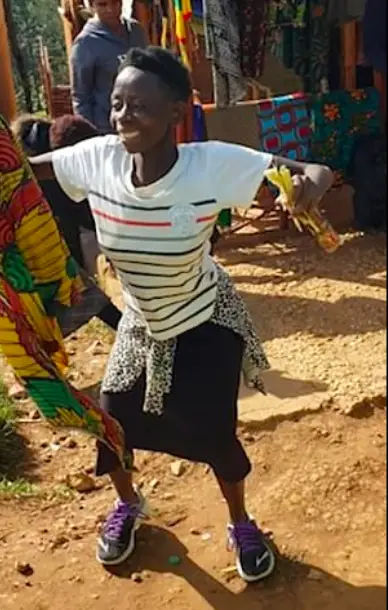 NewsFlare
Grier's humble driver holds out the right shoe as the woman carefully puts her foot inside.
He then gives a thumbs up to people watching. 
The video then shows overwhelmed woman looks on as the helpful man ties up the shoelace for her. 
Once the left shoe is on the excited woman smiles again and resumes her dance routine,
With her brand new shows, the woman starts waving her arms in celebration. She earns wild cheering from inside the car where Ms Grier is emotional.