In both beautiful and heartbreaking scenes, a cancer-stricken woman has married her high school sweetheart.
Ronda Bivens, 28, married her long term partner Matthew Mager, 29, last week from her hospital bed in ceremony in Knoxville, Tennessee.
Sadly, Ronda had just been told she has just days to live.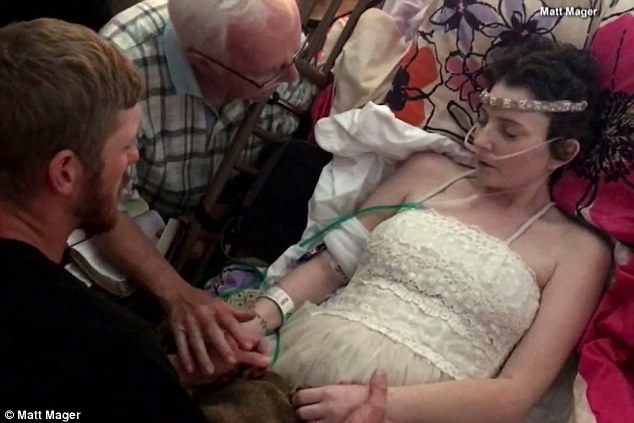 But despite the tragic circumstances Ronda has what many of us strive for – true love.
She has been with Matthew for over a decade and the two share young children.
Matthew is completely devoted to her and the couple have always fantasized about having a big wedding.
But 12 months ago Ronda was dealt the earth- shattering news that she had a rare form of cancer known as epithelioid sarcoma – on her ankle. 
After their emotional wedding ceremony the loving couple have spent the past few days looking over the photos and videos.
'Being married, it's a good feeling. Makes me smile just thinking about it even with all the pain,' Matt told 6ABC. 
The couple are now praying for a miracle for the sake of their family.
Their two children are four and six.
'If it's a week, a year, or the rest of her life, I'm thankful for that time,' Matt said.
The couple met in middle school and started dating when they graduated high school. 
Despite her incurable diagnosis, Ronda has remained upbeat and has been documenting her struggles with cancer on Facebook.
'I've seen better days, but I've also seen worse. I don't have everything that I want, but I do have all I need.'
'I woke up with some aches and pains, but I woke up. My life may not be perfect, but I am blessed,' she wrote earlier this month.